THIS IS AN ARCHIVE OF EVERYTHING KIOSK HAS COLLECTED. TO MEET THE DIGITAL, WE HAVE A PHYSICAL, CURRENTLY IN STORAGE IN NEW YORK. NOTHING YOU SEE HERE IS FOR SALE. PLEASE USE AS A REFERENCE AND AN INSPIRATION AND PLEASE WRITE US IF YOU HAVE ANY QUESTIONS OR INFORMATION TO SHARE.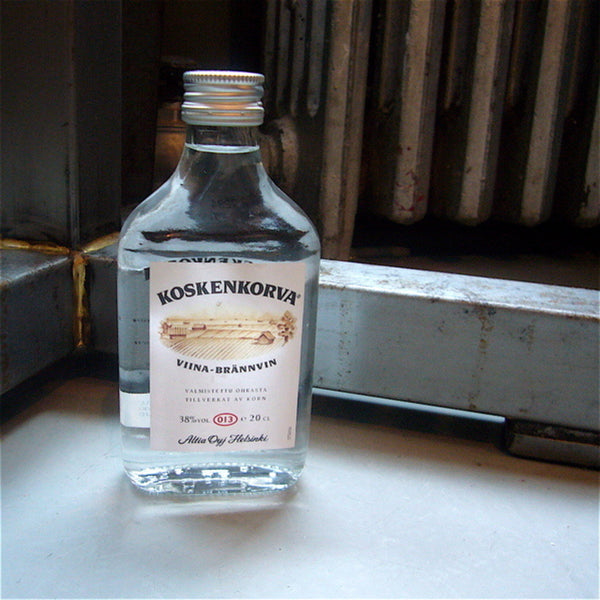 Koskenkorva
3" x 6", 20 cl
Barley Based Alcohol
FINLAND
There is a small rumor that Finns know how to drink...yeah, you could say that. Although we were there in the summer and I think the winter is a very different story, yeah, we noticed more than just a few knew how to drink and how to love their hard alcohol too. It actually was quite liberating, drinking a beer with lunch was not at all strange, and shots of booze in the nighttime were perfectly normal. We got into a few less-than-normal drunken moments in Helsinki, where time and time again our hosts told us " This never happens." Whatever - have a good time. Koskenkorva is the real man's drink - it works, it does the trick, it is like medicine and it never fails. It can bring you up and drop you way down. Funny, since we were in Finland, I have started carrying around mini-bottles of alcohol in my bag, I still have a mini Koskenkorva in there now. Let me tell you, with Koskenkorva in your bag, the razor's edge you were standing on one moment ago disappears and suddenly you find yourself floating on Cloud #9. Another, "Take it Easy" Finnish moment.