THIS IS AN ARCHIVE OF EVERYTHING KIOSK HAS COLLECTED. TO MEET THE DIGITAL, WE HAVE A PHYSICAL, CURRENTLY IN STORAGE IN NEW YORK. NOTHING YOU SEE HERE IS FOR SALE. PLEASE USE AS A REFERENCE AND AN INSPIRATION AND PLEASE WRITE US IF YOU HAVE ANY QUESTIONS OR INFORMATION TO SHARE.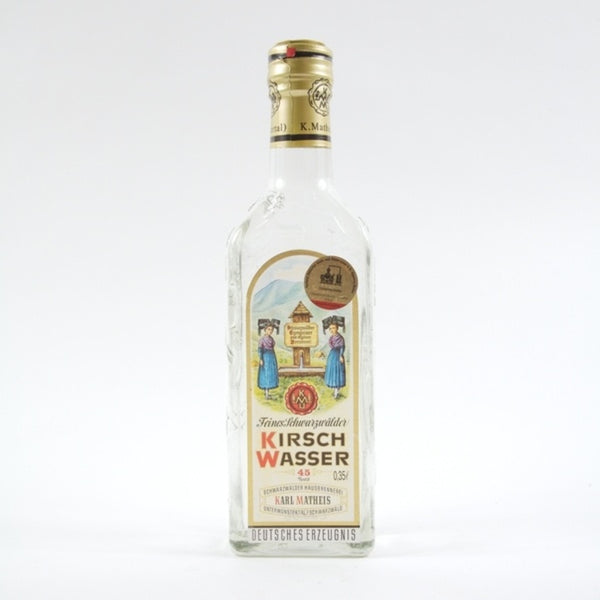 Kirschwasser
9.5" x 3" x 1.75", .35 l.
Cherry Brandy
GERMANY
Kirschwasser is thought to have originated in the Black Forest and this kirsch comes from the heart of it. We were not there while the cherries were in bloom, but there was snow and the air was pure. It is strong, as one would expect from a clear alcohol, but has a simple, nice, slight cherry aftertaste. Kirschwasser is a clear brandy made from the double distillation of the fermented juice from a small black cherry and it is one of the main ingredients in Black Forest cake. I am not a kirsch expert and I am not a big drinker, but I am a fan of clear fruit-based brandies - a little nip from time to time makes the writing go smoother, no matter the time of day. It's good we have two clear alcohols in the Germany collection (see Obstler), that way I can switch back and forth and never tire of the two.