THIS IS AN ARCHIVE OF EVERYTHING KIOSK HAS COLLECTED. TO MEET THE DIGITAL, WE HAVE A PHYSICAL, CURRENTLY IN STORAGE IN NEW YORK. NOTHING YOU SEE HERE IS FOR SALE. PLEASE USE AS A REFERENCE AND AN INSPIRATION AND PLEASE WRITE US IF YOU HAVE ANY QUESTIONS OR INFORMATION TO SHARE.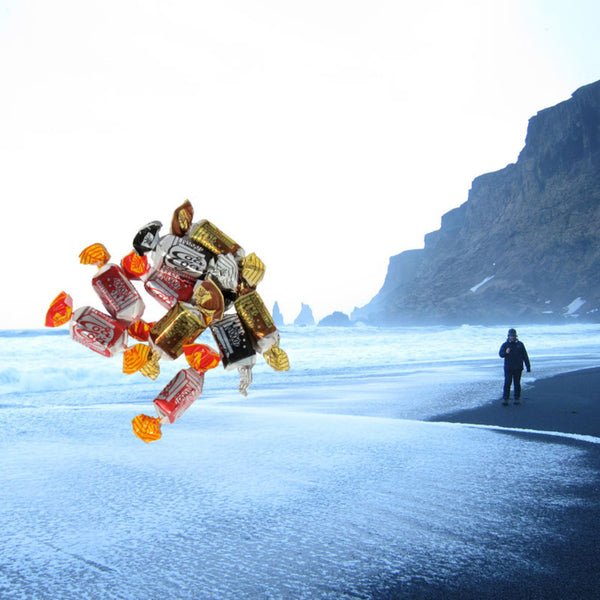 Karamellur Caramels
12 Pieces
Glucose, Sugar, Fresh Milk, Hardened Vegetable Oil, Cocoa Liquor, Licorice Extract, Salt, Anise Oil, Vanillin Lechitin & Flavor (could contain traces of hazelnuts, almonds, and coconuts)
ICELAND
I know it's not appropriate to eat outside food in restaurants, but with so much candy to sample in only so many days, we had a hard time fitting it all in. Considering that at Grái Kötturin, our favorite cafe in Reykjavik, they understand art and likewise have a personal mission, I thought it would be OK to sample some Karamellur with my coffee after eating their fabulous cheese and jam pancakes as long as I was careful enough to share. We shared with the waitress, the cook, the diners and even the man with the hook. We shared with the doggie tied up outside and the seagull that had no pride. We went to the second-hand bookstore and shared with the cashier. We shared and shared and shared oh dear! We shared the licorice, the caramel and the chocolate flavors with you and you, we shared and shared and ate a bunch too, too, too!