THIS IS AN ARCHIVE OF EVERYTHING KIOSK HAS COLLECTED. TO MEET THE DIGITAL, WE HAVE A PHYSICAL, CURRENTLY IN STORAGE IN NEW YORK. NOTHING YOU SEE HERE IS FOR SALE. PLEASE USE AS A REFERENCE AND AN INSPIRATION AND PLEASE WRITE US IF YOU HAVE ANY QUESTIONS OR INFORMATION TO SHARE.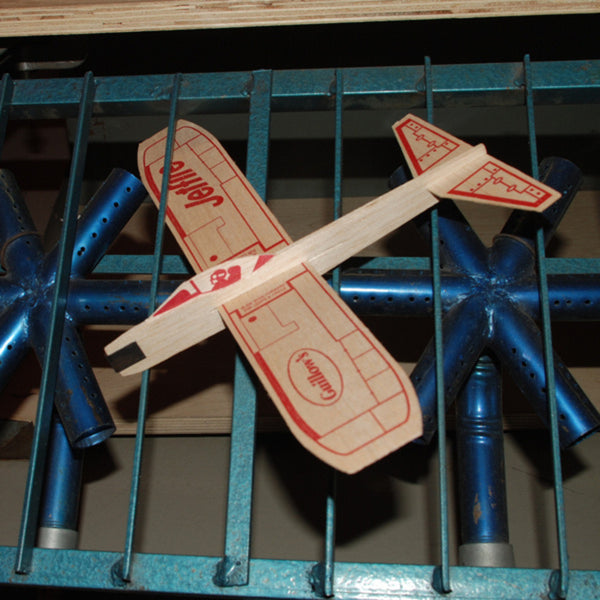 Jetfire Balsa Airplane
13" x 2.25" approx.
Balsa Wood
USA
I have been wanting to stock this item for some time. I am glad to have it in-house. Knowing that yes, I am an adult, damn it - I decided to make a test with two very specific and entertaining little boys. It worked! They were hooked for hours: "How far can it go?" "How did you make it spin?" "Let's have a race."etc, etc. Made by Guillow, who refused us a factory tour due to their secret manufacturing technique (hence, Marco has filed a job application for the assembly line; we will get in there sooner or later!). Paul K. Guillow, a WWI US Navy Aviator, founded the company in 1926 in his family barn. By 1927, when Lindbergh completed the first transatlantic flight, aviation had suddenly become all the rage, so Guillow found his products in high demand. In 1933, he moved the plant to its current location. Putting the plane together is half the fun; the other half is flying it, and all the weird things that result. For example: when one gets stuck in a small tree, and the neighbor comes out and yells at you because she thinks you are deliberately trying to damage her property. Why would I want to climb that tiny tree? That was kooky! Alarm!