THIS IS AN ARCHIVE OF EVERYTHING KIOSK HAS COLLECTED. TO MEET THE DIGITAL, WE HAVE A PHYSICAL, CURRENTLY IN STORAGE IN NEW YORK. NOTHING YOU SEE HERE IS FOR SALE. PLEASE USE AS A REFERENCE AND AN INSPIRATION AND PLEASE WRITE US IF YOU HAVE ANY QUESTIONS OR INFORMATION TO SHARE.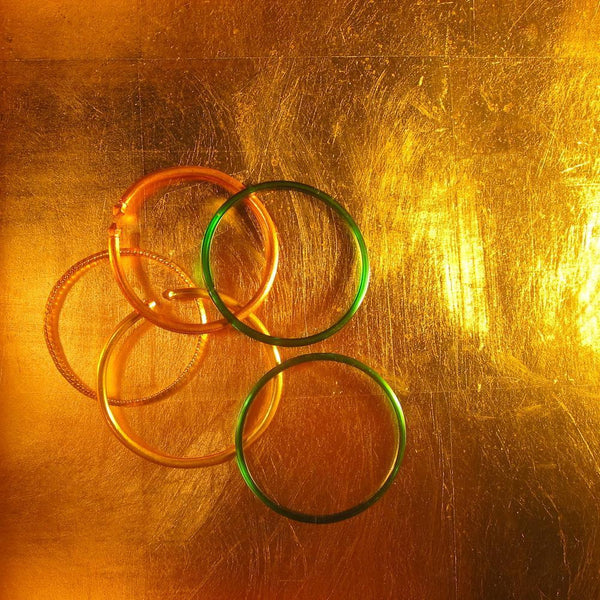 Indian Bracelet Set
3" ø
Copper, Brass & Glass
INDIA
Women in India wear bangles. Traditionally, as many small glass bangles as possible are worn to one's wedding, and when the last one breaks, the honeymoon is considered over. Green is often considered auspicious for weddings, as is red. Pretty as these bangles are, I like them best for their sound. It's calming and it reminds me of a close friend who has been wearing a stream of bangles since the day I met her. The tinkle transports me and helps me relax. There is a lengthy discussion as to whether wearing copper and brass bracelets helps with everything from arthritis to strengthening the immune system. I'd like to talk about other things today, about beauty. Aren't these bracelets beautiful? I never know what to write about jewelry - either you look and you like, or you don't.