THIS IS AN ARCHIVE OF EVERYTHING KIOSK HAS COLLECTED. TO MEET THE DIGITAL, WE HAVE A PHYSICAL, CURRENTLY IN STORAGE IN NEW YORK. NOTHING YOU SEE HERE IS FOR SALE. PLEASE USE AS A REFERENCE AND AN INSPIRATION AND PLEASE WRITE US IF YOU HAVE ANY QUESTIONS OR INFORMATION TO SHARE.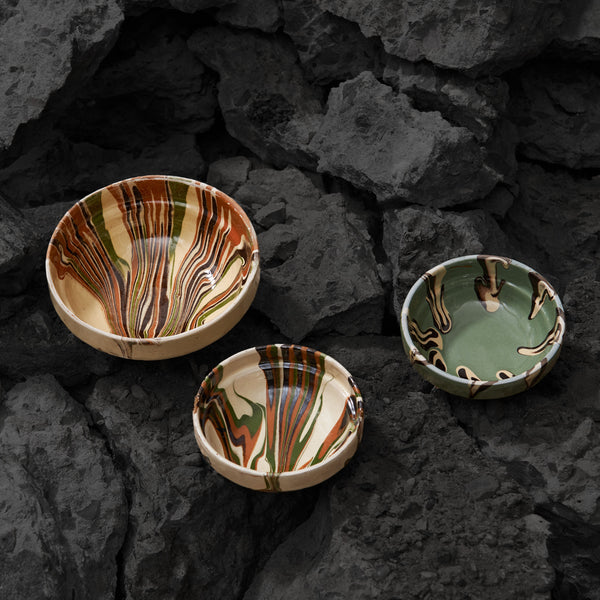 Hungarian Bowls
large: 5.25" x 2", small: 4" x 1.5"
Glazed Terracotta
ROMANIA
We were wondering, why are these bowls called "Hungarian Bowls" when we were in Romania, nowhere near the Hungarian border and the bowls are produced in Romania too. Well, that's something confusing. In 1920, after World War I, Transylvania, which was a part of the Habsburg empire, was joined with Romania as part of the Treaty of Trianon and has been a part of Romania ever since. However, just as the German population and government still considers the Saxon/Romanian population German (although they arrived in the 1200s), the Hungarian population in Romania, which is, in fact, technically Romanian, generally still considers itself Hungarian. This can create some confusion and sometimes some animosity in the country, as you might imagine. So, these bowls are, in fact, Romanian, although considered Hungarian, but in the end are just beautiful and remind me of all the chanterelles we found in the forest. End of story, politics does not have its place in these bowls. Can't we all get along and understand one earth = one people? Why does there always have to be an underdog and overdog in the playground?