THIS IS AN ARCHIVE OF EVERYTHING KIOSK HAS COLLECTED. TO MEET THE DIGITAL, WE HAVE A PHYSICAL, CURRENTLY IN STORAGE IN NEW YORK. NOTHING YOU SEE HERE IS FOR SALE. PLEASE USE AS A REFERENCE AND AN INSPIRATION AND PLEASE WRITE US IF YOU HAVE ANY QUESTIONS OR INFORMATION TO SHARE.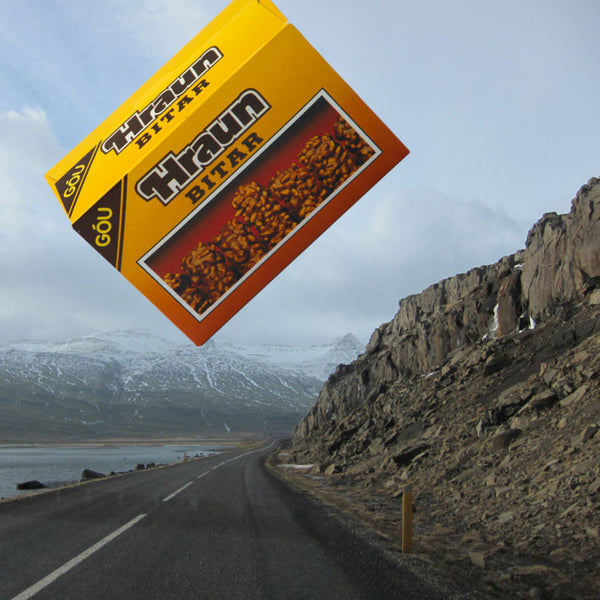 Hraun Bits
About 24 bits in a box
Wheat, Sugar, Puffed Rice, Cocoa Butter, Cocoa Liquor, Vegetable Fat, Sodium Bicarbonate, Milk Powder, Ammonium Bicarbonate, Salt, Maize Starch, Lecithin, Vanillin & Soya Oil (could contain traces of hazelnuts and almonds)
ICELAND
The falls were big, over one hundred meters high, but we knew we had to get closer and climb to the top, no matter how much there was a risk of a landslide. It had been raining for months, years, weeks, or was it days? Lava, or "Hraun", created in the '70s, is one of the top Icelandic candies. Essentially Ædi without the coconut. Good for people who hate tropical fruits or any kind of Tiki torch. Produced by Goa, established in 1968, the second-largest candy manufacturer in Iceland, the founder came from Noi Sirius, the largest manufacturer. We got to the top. Hraun roars.