THIS IS AN ARCHIVE OF EVERYTHING KIOSK HAS COLLECTED. TO MEET THE DIGITAL, WE HAVE A PHYSICAL, CURRENTLY IN STORAGE IN NEW YORK. NOTHING YOU SEE HERE IS FOR SALE. PLEASE USE AS A REFERENCE AND AN INSPIRATION AND PLEASE WRITE US IF YOU HAVE ANY QUESTIONS OR INFORMATION TO SHARE.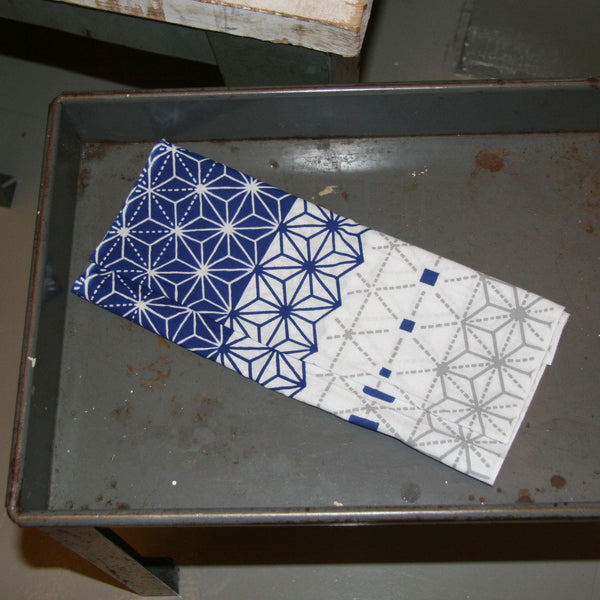 Hemp Pattern Tenugui
36" x 13.5"
Cotton
JAPAN
The company Tokyo Wazarashi was established in 1889 in Tokyo. Since then, they have been producing sarashi (traditional Japanese bleached cotton) and other cotton materials. After the Second World War, many such manufacturers of traditional cottons closed down as Western fashion took over. Tokyo Wazarashi survived and became one of the most renouned producers of sarashi. Tenugui, the Japanese traditional hand towel, found in every Japanese home, is made of sarashi. During the Heian Period (806 - 1190), tenugui was first used as a personal ornament for religious services. During the Kamakura Period (1190 - 1329), its popularity grew, and in the Edo Period (1615 - 1868), it became a necessity in the home. It's almost a joke how many uses the tenugui have—from headcloth to dishtowel. If you look around while in Japan you will find these towels used for almost everything. We think they are the perfect table napkins. Asanoha, the hemp pattern, is the most traditional pattern from the Edo Period.