THIS IS AN ARCHIVE OF EVERYTHING KIOSK HAS COLLECTED. TO MEET THE DIGITAL, WE HAVE A PHYSICAL, CURRENTLY IN STORAGE IN NEW YORK. NOTHING YOU SEE HERE IS FOR SALE. PLEASE USE AS A REFERENCE AND AN INSPIRATION AND PLEASE WRITE US IF YOU HAVE ANY QUESTIONS OR INFORMATION TO SHARE.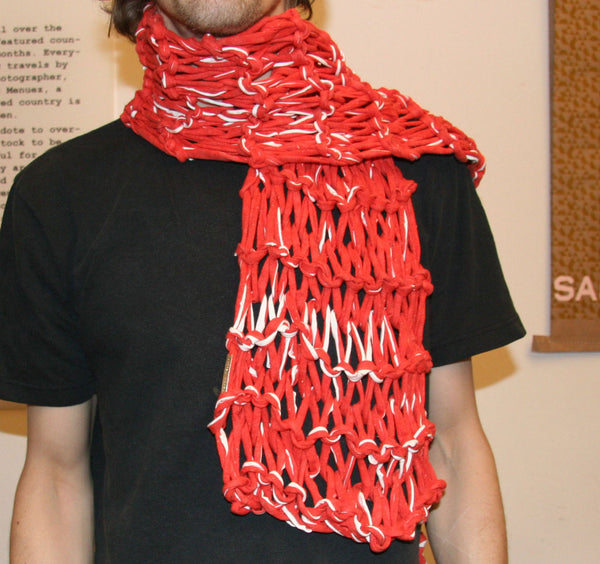 Hand Knitted Red and White Scarf
48" x 10"
Cotton Jersey
SWEDEN
By Lotten Kårfalk. Lotten began knitting when she was in school studying traditional silversmithing and industrial metal working techniques because she was longing to work with a soft material. Hand weaving rugs is still very popular in Sweden; in the countryside it is not uncommon for people to have a loom in their home. Therefore, there is a large market for recycled fabric strips. Lotten came across an amazing supplier for the recycled cloth and was so taken with it she began experimenting. Over time she found it worked best with knitting and has been making scarves ever since.