THIS IS AN ARCHIVE OF EVERYTHING KIOSK HAS COLLECTED. TO MEET THE DIGITAL, WE HAVE A PHYSICAL, CURRENTLY IN STORAGE IN NEW YORK. NOTHING YOU SEE HERE IS FOR SALE. PLEASE USE AS A REFERENCE AND AN INSPIRATION AND PLEASE WRITE US IF YOU HAVE ANY QUESTIONS OR INFORMATION TO SHARE.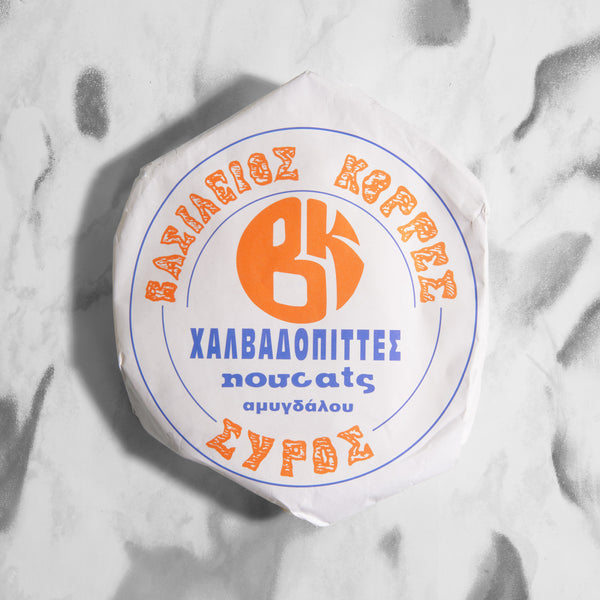 Halvadopita / Nougat Pie
approx. 5.5"ø
Nougat & Host Wafer- Contains NUTS!
GREECE
Naturally, I was drawn to the packaging, and why not? It's got interesting text in a foreign language and a great color combination; the paper has a nice look and touch. How can you lose? Sure, it could have been a shower cap, or a mosquito coil, but I was in a candy shop at the time so I assumed it was edible, to say the least. But wait, what's this? I peeked into the paper and saw a giant communion wafer filled with what looked like... nougat? An interesting combination, indeed. I tasted it, and what my eyes saw was confirmed at first bite. This was not just the body of Christ, but a sweet delight! "Epiphany!" I thought to myself. And indeed, the word comes from ancient Greek: a manifestation or a striking appearance. In this case I would say "Eureka!" (translation: "I have found it!") - see Archimedes.