THIS IS AN ARCHIVE OF EVERYTHING KIOSK HAS COLLECTED. TO MEET THE DIGITAL, WE HAVE A PHYSICAL, CURRENTLY IN STORAGE IN NEW YORK. NOTHING YOU SEE HERE IS FOR SALE. PLEASE USE AS A REFERENCE AND AN INSPIRATION AND PLEASE WRITE US IF YOU HAVE ANY QUESTIONS OR INFORMATION TO SHARE.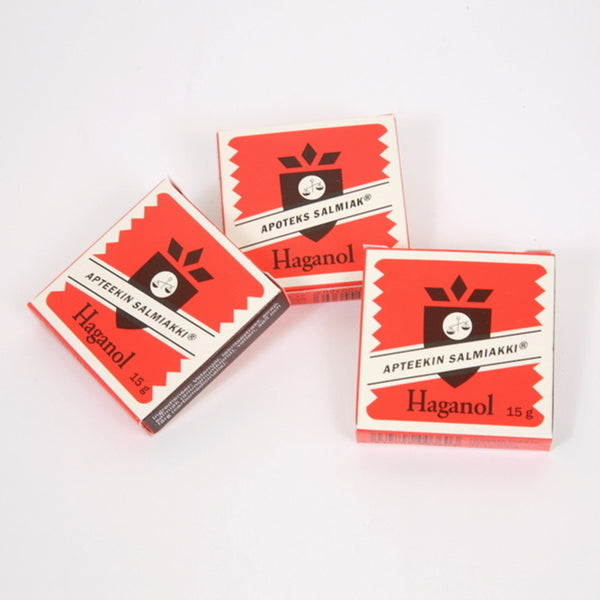 Haganol Apoteks Licorice
2" x 2", 15g
Flour, Licorice, Salmiac, Water, Salt & Coloring
FINLAND
It's something about the flour content that makes this licorice most memorable. Created in 1951 by a chemist couple in Helsinki, the name derives from a combination of the neighborhood Haaga they were working in and 'Numero Uno'… cool chemists. For reasons I am unsure of they set out to create a licorice without any gum arabic or gelatin, this feature makes their licorice unique. It tastes slightly salty but lacks the nasty bite many licorices have. In the early 90s their company began manufacturing liquid salmiac; it was used in a Salmiakkikoskenkorva (licorice vodka) until it was banned becasue it was too popular. In a country with a huge drinking population - too much can be enough! Originally the licorice was sold in bulk to pharmacies as a remedy for coughs and hoarseness; it still is sold and repacked by pharmacies in small white bags, but the red box is even more common throughout Finland.