THIS IS AN ARCHIVE OF EVERYTHING KIOSK HAS COLLECTED. TO MEET THE DIGITAL, WE HAVE A PHYSICAL, CURRENTLY IN STORAGE IN NEW YORK. NOTHING YOU SEE HERE IS FOR SALE. PLEASE USE AS A REFERENCE AND AN INSPIRATION AND PLEASE WRITE US IF YOU HAVE ANY QUESTIONS OR INFORMATION TO SHARE.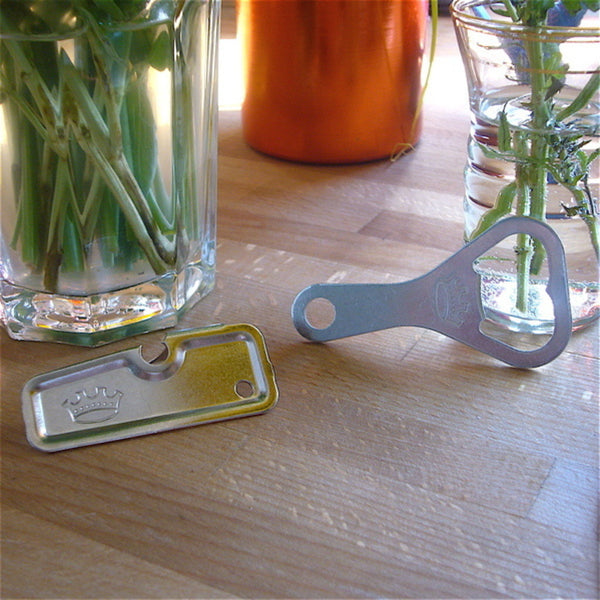 GWS Bottle Opener & Can Opener
2" x 1" each
Steel
FINLAND 
Booze...a way of life. Come and get it, the world's most simple bottle opener. Found hanging in every Finnish sauna and visiting a home near you soon. Carry it in your pocket to a bar and help the bartender out by opening beers, have it on-hand at the park and make friends with everyone who forgot their opener. There are many occasions where one just needs an opener. We even found one in olde Aalto's sauna at his summer house. This opener is everywhere - GWS power. The bottle opener has a can opener sister with a hooknose. Matti Laurell designed the opener in the 1940s. Using sheet metal, he cut pieces and bent them into the opener. As one might imagine, he quickly got tired of producing them himself and the production was finished. Soon after, the company GWS started making them under their name with Laurell's blessing. GWS does not produce them any longer, but another Finnish company does. We could have added the KIOSK logo to each, but then we would have had to order 50,000 - that's a lot of cans to open, even by American standards.