THIS IS AN ARCHIVE OF EVERYTHING KIOSK HAS COLLECTED. TO MEET THE DIGITAL, WE HAVE A PHYSICAL, CURRENTLY IN STORAGE IN NEW YORK. NOTHING YOU SEE HERE IS FOR SALE. PLEASE USE AS A REFERENCE AND AN INSPIRATION AND PLEASE WRITE US IF YOU HAVE ANY QUESTIONS OR INFORMATION TO SHARE.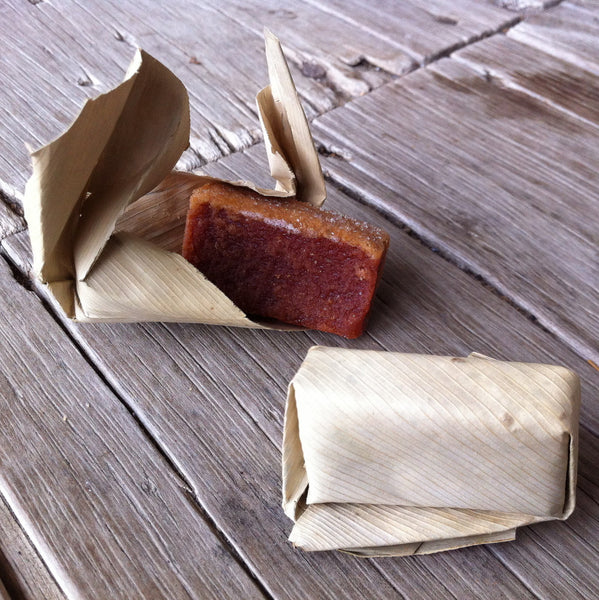 Guava Paste Treats
1.25" x 1.5" x .5"
Guava Pulp, Sugar & Preserved Citric Acid, Wrapped with Bijao Leaf
COLOMBIA
You may know of quince paste? Sometimes you find it on fancier cheese plates around the world. Bocadillo is the South American equivalent and it is delicious too. When I go to Colombia, I am going to learn how to make it. The paste is most often made into small blocks and wrapped in a leaf from the bijao plant. The bijao is a very common tropical plant and the leaf is often used for food items - most commonly with tamales, as the fresh leaf has a natural wax coating on one side. Colombia is one of the largest guava producers in the world. When my friend Chris was in Colombia, he ate quite a bit of guava as it is very high in vitamin C - four times found in an orange. I have never been to Colombia, but he tells me it is common to get a piece of guava paste with your restaurant check. As he said, forget that after-dinner mint - who needs it? This is true.