THIS IS AN ARCHIVE OF EVERYTHING KIOSK HAS COLLECTED. TO MEET THE DIGITAL, WE HAVE A PHYSICAL, CURRENTLY IN STORAGE IN NEW YORK. NOTHING YOU SEE HERE IS FOR SALE. PLEASE USE AS A REFERENCE AND AN INSPIRATION AND PLEASE WRITE US IF YOU HAVE ANY QUESTIONS OR INFORMATION TO SHARE.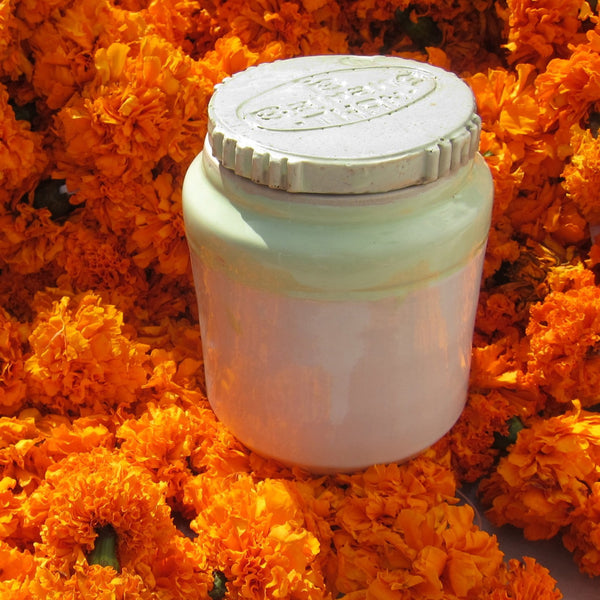 Green Lid Storage Jar
4.5" x 5"
Stoneware
INDIA
Various explanations from suppliers on why we could only get 7 of these jars this year, each explanation heard during a one month period:
- there is a workers' strike and a shortage of workers in general who do this pottery work.
- people do not make homemade pickle anymore (what the jars are traditionally used for) and buy from packets.
- the mangoes which are used to make the pickle are only in season for a few months of the year, so even for those who make the pickles at home, there is a "season."
- if we are ordering in lakh of pieces, then only will the company take our special order.
- all pieces are handmade and they only make the jars once a year in December/January...they will not make more stock until the following year.
- it is very hard to know what the company will send to the stores distributing the product. Much of what the stores want they do not get; they take what they can get.
Luckily, when in India I still get a kick out of this stuff. When we called the factory to make an order, they told us to call back next year and hung up! Funny "ha ha" or Funny "strange," what we do...