THIS IS AN ARCHIVE OF EVERYTHING KIOSK HAS COLLECTED. TO MEET THE DIGITAL, WE HAVE A PHYSICAL, CURRENTLY IN STORAGE IN NEW YORK. NOTHING YOU SEE HERE IS FOR SALE. PLEASE USE AS A REFERENCE AND AN INSPIRATION AND PLEASE WRITE US IF YOU HAVE ANY QUESTIONS OR INFORMATION TO SHARE.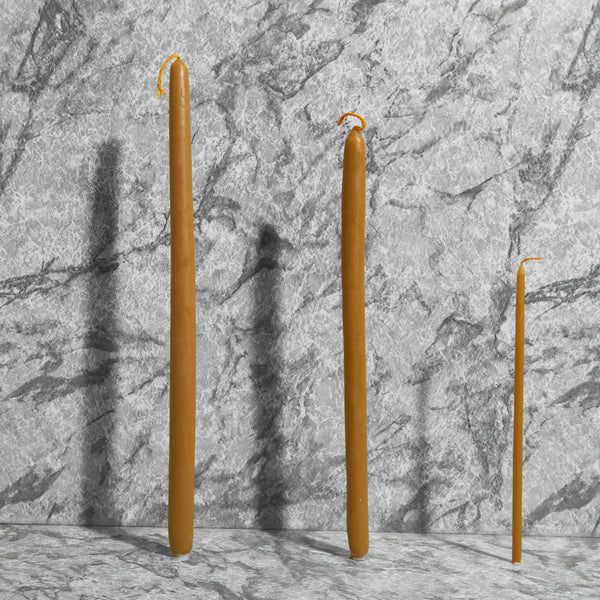 Greek Beeswax Candles
small: .25"ø x 9", set of five
medium: .5"ø x 12.5", set of two
large: .75"ø x 15", set of two
Beeswax
GREECE
You know the merits of beeswax, right? Smokeless, burns slower, smells good, smells very good. Candles play a significant role in the Greek Orthodox church. I'm not particularly interested in their religious significance, frankly. I tried researching it for some time, but the information I found was so varied, I gave up. Churches are everywhere in Greece, but I should clarify by saying The Church is everywhere in Greece, almost a little too everywhere. When it comes to candles, a lot are being used in Greece, and since they are used for church, the quality is very good - a demanding audience. We stopped into one service at Agios Dionysios in Athens. It was that church's saint day, and they were going the whole nine yards; even the military wore their full regalia. Lots of candles were burning, but no smoke was in the air, as the candles were of beeswax. When I visit a church, I light a candle for my father and my mother; the ongoing joke I have is to place them as far apart as possible in their holders. Marco looks at me like I am sinner every time I repeat this one-liner. He's not religious, but he was raised by a father from a line of Calvinist priests, so he has some heavy stuff in there. Marco considered becoming a priest; a neon-making priest would be pretty cool. Greek beeswax candles are slightly olive in color, more green than yellow, like what we have here.