THIS IS AN ARCHIVE OF EVERYTHING KIOSK HAS COLLECTED. TO MEET THE DIGITAL, WE HAVE A PHYSICAL, CURRENTLY IN STORAGE IN NEW YORK. NOTHING YOU SEE HERE IS FOR SALE. PLEASE USE AS A REFERENCE AND AN INSPIRATION AND PLEASE WRITE US IF YOU HAVE ANY QUESTIONS OR INFORMATION TO SHARE.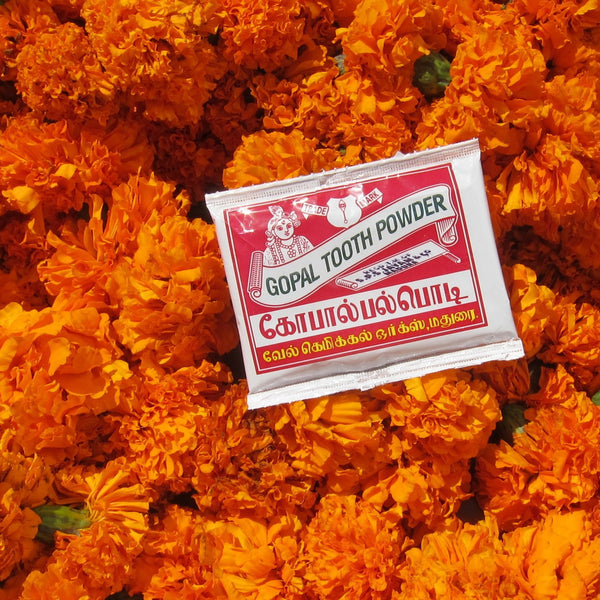 Gopal Tooth Powder
3.5" x 3" / 0.5 oz
Kundung Kathari, Kirambu/Cloves, Neertha Sunnam, Kadukkai, Lavangampattal Yeah & the usual..
INDIA
Teethering on the brink of divinity! Slightly sweet with a hint of mint. Not a mint explosion, but a touch of minty, tree bark goodness. Tastes like "space toothpaste" and closer to Tom's than Crest. Slightly sandy, it quickly dissolves into nothingness, dissolving like sugar and cinnamon, but it does not taste like cinnamon. It has more of an earthy flavor which could be the cloves or the kadukkai, a nut known to cure nagging coughs. Please note we are not selling this to ingest, only for the packaging! You decide if you use it or not.