THIS IS AN ARCHIVE OF EVERYTHING KIOSK HAS COLLECTED. TO MEET THE DIGITAL, WE HAVE A PHYSICAL, CURRENTLY IN STORAGE IN NEW YORK. NOTHING YOU SEE HERE IS FOR SALE. PLEASE USE AS A REFERENCE AND AN INSPIRATION AND PLEASE WRITE US IF YOU HAVE ANY QUESTIONS OR INFORMATION TO SHARE.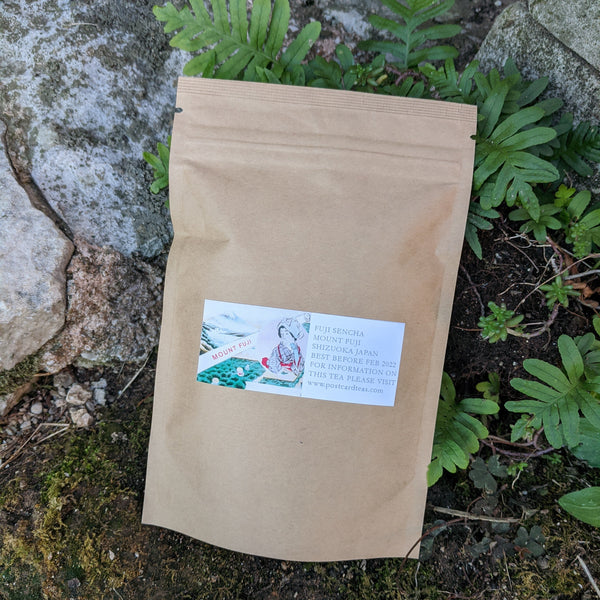 Fuji Sencha Compliments of Postcard Teas, London
Camellia Sinensis Sinensis, Yabukita cultivar, Ichibancha, Harvested 2020
50 grams
JAPAN
I wake, I make, I drink. Rinse and repeat. That's my day. This is my juice. A delicious sencha offered by Postcard Teas in London. Create a store with Postcard Teas, Monmouth Coffee, Wittamer Chocolates, Nadege and Dany's vegetables, Marianne Denais' cheese, Domaine Tempier wine and you'll have a home run. That is all you need. Call it Essentials and then call it a day. Look no further, this is it, Mount Fuji. Carefully produced and carefully chosen. Solid enough to be brewed 3 times, each time being slightly different. 
"A lightly-steamed sencha made from tea trees on the slopes of Mount Fuji in Shizuoka by Master Akiyama. Akiyama-san's teas have won many prizes, including the top gold prize at The World Green Tea Contest, and he is recognized as one of Japan's leading tea pioneers for his experimental work on different Japanese tea cultivars. It can be brewed normally at 70-75°C for a strong, grassy flavor, or with more leaf and lower temperature to accentuate the texture and umami."

ORIGIN
Master Akiyama's Farm, Fuji City, Mt Fuji, Shizuoka, Japan
SIZE OF FARM
10 acres
BREWING GUIDELINE
70°C, 3-4g per cup or 60°C and 5-6g per cup. 3 infusions.