THIS IS AN ARCHIVE OF EVERYTHING KIOSK HAS COLLECTED. TO MEET THE DIGITAL, WE HAVE A PHYSICAL, CURRENTLY IN STORAGE IN NEW YORK. NOTHING YOU SEE HERE IS FOR SALE. PLEASE USE AS A REFERENCE AND AN INSPIRATION AND PLEASE WRITE US IF YOU HAVE ANY QUESTIONS OR INFORMATION TO SHARE.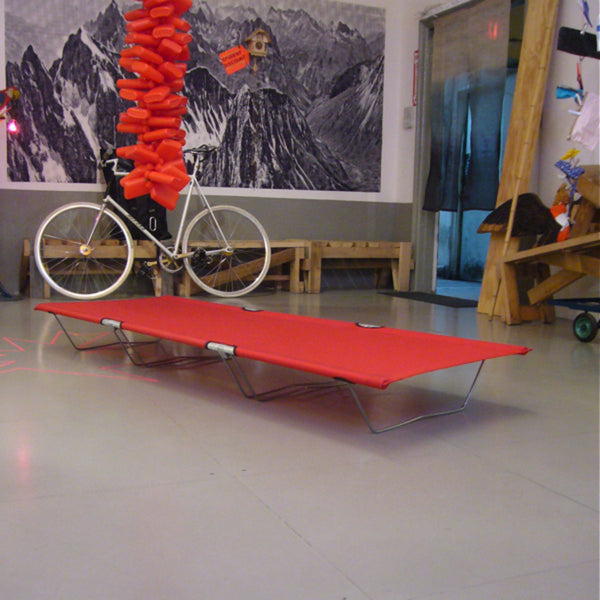 Folding Cot
74" x 27" x 8" off the floor
Nylon & Steel
USA
Got a cot? Got house guests? Get a cot! We did a test of a traditional army cot vs. our cot. There was no comparison: ours folds into nothing and is light as a feather. While the army cot made lots of noise when used, ours was silent as a breeze; the army cot was impossible to fold, while ours collapsed neatly into its own bag (with a shoulder strap); ours is easier to assemble too. Pete Smith opened his operation with a buddy in the 70s. The original model was based on a cot with an attached tent. Pete quickly concluded they should eliminate the tent, and they then began production (both of the entrepreneurs also had day jobs). With parts originating from up and down the east coast (except for the hinge), this really is an all-American product. Pete mentioned to me at one point that they were selling 3,000 cots a year. Then sales took a hit with Eddie Bauer going downhill, and L.L. Bean importing most of their goods from overseas. But now, back like a phoenix, and HALF as complicated, heavy, or big as all the other cots out there, the cot is rising again. For all of us with house guests or an aversion to air mattresses. Who needs "whoosh"™ technology anyway?