THIS IS AN ARCHIVE OF EVERYTHING KIOSK HAS COLLECTED. TO MEET THE DIGITAL, WE HAVE A PHYSICAL, CURRENTLY IN STORAGE IN NEW YORK. NOTHING YOU SEE HERE IS FOR SALE. PLEASE USE AS A REFERENCE AND AN INSPIRATION AND PLEASE WRITE US IF YOU HAVE ANY QUESTIONS OR INFORMATION TO SHARE.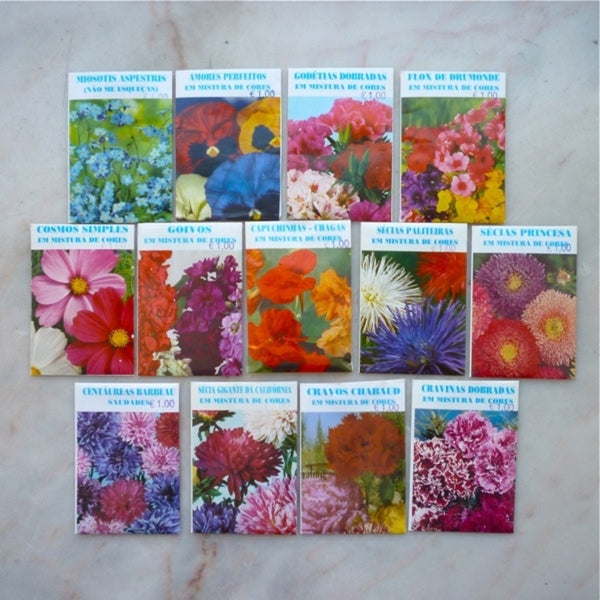 Flower Seeds from Porto
3" x 4.5"
Assorted Flower Seeds
PORTUGAL
Why plan a garden when you could have an assortment of seeds, with little idea of what they are? I think half the fun of growing things is seeing what happens and what one finds throughout the season. In this assortment of 12 flowers are carnations, phlox, pansies, and cosmos. The rest are a guess. I mean, I recognize the flowers, but I don't know the names. Frankly, I decided I'd rather not know too much. It's like if you go to a shrink and you know they are a Jungian. You want to know a bit about the technique, but knowing too much only sets one up for a disappointment or possible deceit. How can you play the game if you know all the tricks and rules? How can you plant a garden if you know the entire outcome?