THIS IS AN ARCHIVE OF EVERYTHING KIOSK HAS COLLECTED. TO MEET THE DIGITAL, WE HAVE A PHYSICAL, CURRENTLY IN STORAGE IN NEW YORK. NOTHING YOU SEE HERE IS FOR SALE. PLEASE USE AS A REFERENCE AND AN INSPIRATION AND PLEASE WRITE US IF YOU HAVE ANY QUESTIONS OR INFORMATION TO SHARE.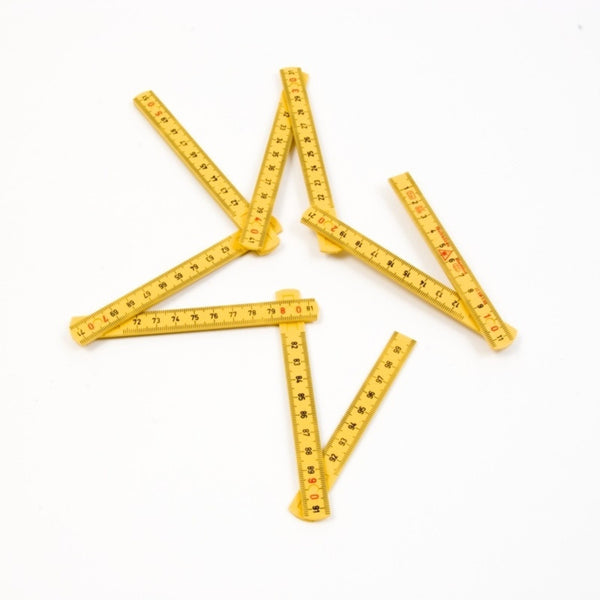 Fiberglass Folding Ruler
1 meter long when fully extended - or almost a full yard if you rather
Fiberglass & Metal
SWEDEN
So, you are about to take the plunge? Metrics? Well, instead of 1/4s or 1/16s of a foot not translating into anything other than lengths - why not start training your sense of powers of ten with this handy tool? It looks great, takes up very little space and is handy when your architect starts talking about 67 centimeter-wide windows, and you believe that you are getting a 67" panorama view. The short course, including some Greek: Centi = hundred. Milli = thousand Kilo = thousand 1" = 2.54 centimeters or cm (hundredths of a meter, get it?) 1' = 30.48 cm 1m = 100cm = 1000mm (that's millimeter) = little more than a yard (1.094). More...a cube of 10cm x 10cm x 10cm is the volume of a liter! And a liter of water weighs...1 kilogramme. Then you just go on like that, dividing/multiplying by ten along the way. It's not as hard as you think. Especially not with this tool at hand...