THIS IS AN ARCHIVE OF EVERYTHING KIOSK HAS COLLECTED. TO MEET THE DIGITAL, WE HAVE A PHYSICAL, CURRENTLY IN STORAGE IN NEW YORK. NOTHING YOU SEE HERE IS FOR SALE. PLEASE USE AS A REFERENCE AND AN INSPIRATION AND PLEASE WRITE US IF YOU HAVE ANY QUESTIONS OR INFORMATION TO SHARE.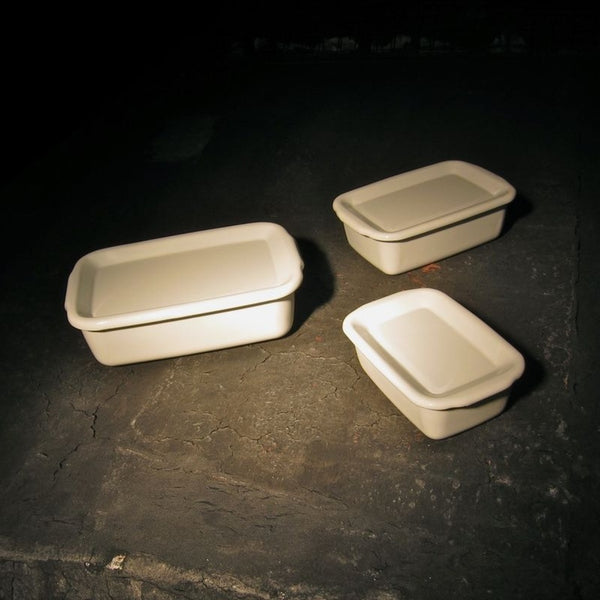 Enamel Storage Containers
s: 6.25" x 4.25" x 2.25", m: 7.5" x 5" x 2.4", l: 9.25" x 6.25" x 2.5"
Enameled Steel
JAPAN
It's true, I agree, these are expensive.
However, think for a moment...
how many plastic containers
have you tossed out
because they are stained
or because they always feel oily?
And by the way, plastic is not good
to store edibles in.
The night's leftovers go into one
all together
and are brought to work the next day for lunch.
Although this is not a "lunch box,"
I use it this way,
and every time I open it,
I think of the fun we had
the night before
when I look at my leftovers.
They stack, and with the little ridge
on the top,
they do not slide around.
Also, as they are enamel, they can go
from the refrigerator
straight to the stove top or oven.
Fewer dishes!