THIS IS AN ARCHIVE OF EVERYTHING KIOSK HAS COLLECTED. TO MEET THE DIGITAL, WE HAVE A PHYSICAL, CURRENTLY IN STORAGE IN NEW YORK. NOTHING YOU SEE HERE IS FOR SALE. PLEASE USE AS A REFERENCE AND AN INSPIRATION AND PLEASE WRITE US IF YOU HAVE ANY QUESTIONS OR INFORMATION TO SHARE.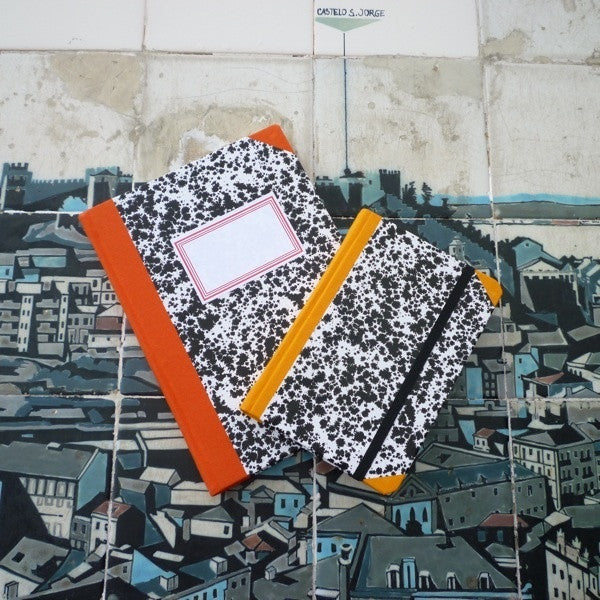 Emilio Braga Notebook Set
Large: 6.5" x 9" Small: 4.5" x 6.75"
Paper & Cotton
PORTUGAL
In 1918, when Emílio da Silva Braga was founded, they were considered the finest stationers of the time. Almost a century later, Emílio Braga Lda., still a family business, continues to produce notebooks, including the famous "galoche" (from the French galuchat), a distinctive notebook that is fully handmade. It is the true Portuguese notebook. The black-and-white cover pattern is called "cloud"; there is a matching pattern on the edge of the paper. People, myself included, continually ask how the edges of the paper are printed with their unique pattern; when we visited the factory, we were surprised to see the pattern is still hand-sponged. Three women produce the notebooks; the two we met had been with the company for 35 and 37 years, respectively. The large notebook has blank pages; the small one has lines. Until now, I never used a notebook with an elastic. It's very handy, I stuff all sorts of items inside my book and everything is held safe and secure. I really like using this notebook because it is beautiful and well-made, and because every time I take it out, I think about the crazy hand-sponging and the ladies who make them. It's something.