THIS IS AN ARCHIVE OF EVERYTHING KIOSK HAS COLLECTED. TO MEET THE DIGITAL, WE HAVE A PHYSICAL, CURRENTLY IN STORAGE IN NEW YORK. NOTHING YOU SEE HERE IS FOR SALE. PLEASE USE AS A REFERENCE AND AN INSPIRATION AND PLEASE WRITE US IF YOU HAVE ANY QUESTIONS OR INFORMATION TO SHARE.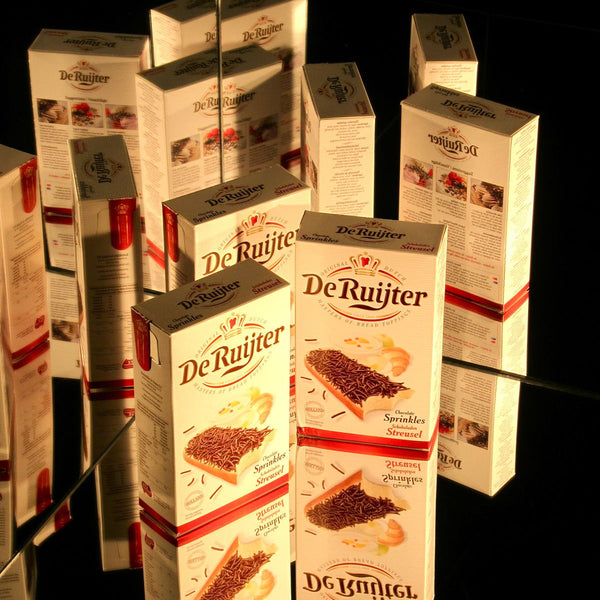 Dutch Sprinkles
6" x 3.5" x 1.5", 400 g.
Sugar, Cacao & Cocoa Butter
THE NETHERLANDS
Sprinkles - yes - but no, not really. Jimmies - no - I don't like this name. Who wants little "jimmies" all over one's ice cream or cake? In the Netherlands, sprinkles go by hagelslag - named after hail. Way over there in the Nether-lands, they use the sprinkles on bread - forget about ice cream. On ice cream there is whipped cream: nothing less than double decadence will do in the old country - the Dutch do know how to enjoy, and I really love them for that. Given Marco is half-Dutch, we always had one stale package of hagelslag in the back of our pantry. It took ten years, a half-Dutch husband, a Dutch married name, and a Dutch father-in-law to show me the beauty of chocolate bits on bread. According to history, it took a 5-year-old boy sending several letters, that begged Dutchman Gerard de Vries to invent the same, in 1936. We should listen to children more. Do note: sprinkles are "chocolat hagelslag" if they are 35% cacao or more, anything less are called "cacao fantasy hagelslag". What a dream. Do also note: American sprinkles, by and large, contain no cacao. Wait - I spoke too soon, this is America after all...here come the local, fine-crafted, mico-brewed, limited, aged and hand-rolled cacao sprinkles, made in hand-stamped batches, packed in tins first produced in 1902, and sold only at your farmers' market, and very "local," Whole Foods. Best made!