THIS IS AN ARCHIVE OF EVERYTHING KIOSK HAS COLLECTED. TO MEET THE DIGITAL, WE HAVE A PHYSICAL, CURRENTLY IN STORAGE IN NEW YORK. NOTHING YOU SEE HERE IS FOR SALE. PLEASE USE AS A REFERENCE AND AN INSPIRATION AND PLEASE WRITE US IF YOU HAVE ANY QUESTIONS OR INFORMATION TO SHARE.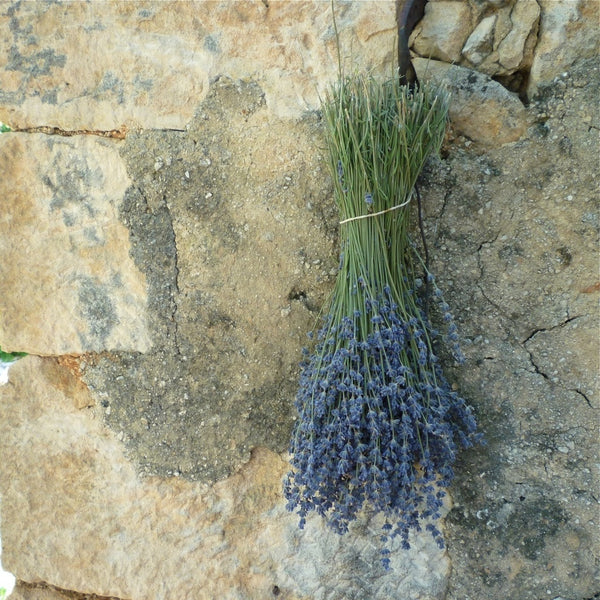 Dried Lavender Bunch
15" x 4" x 2"
Lavender
FRANCE
You're running in a field of lavender. You planned it thinking it would be waist or chest high and you are nude. You don't know a thing about plants. Most lavender only grows to the knee at best, and you are surrounded by tourists taking pictures of their honey in their Sunday finest on holiday. Not honey in a jar but their sweetheart. You duck for cover. Who said nudity was over- or underrated - it's just X-rated for you now. You head into military mode, leaving your Jean de Florette fantasy behind. Getting cut up as you go, you make your way to a cart filled with fresh lavender; you fashion yourself a costume. Lo and behold... "I am the lavender KING!" You think of Leonardo on the bow of the Titanic and you pose for pictures with tourists. You bring back your souvenir and sell it at KIOSK. Fresh, lavender, from Provence, sexy, naked, adventure, bunches, straight from the lavender-growing capital of the world.