THIS IS AN ARCHIVE OF EVERYTHING KIOSK HAS COLLECTED. TO MEET THE DIGITAL, WE HAVE A PHYSICAL, CURRENTLY IN STORAGE IN NEW YORK. NOTHING YOU SEE HERE IS FOR SALE. PLEASE USE AS A REFERENCE AND AN INSPIRATION AND PLEASE WRITE US IF YOU HAVE ANY QUESTIONS OR INFORMATION TO SHARE.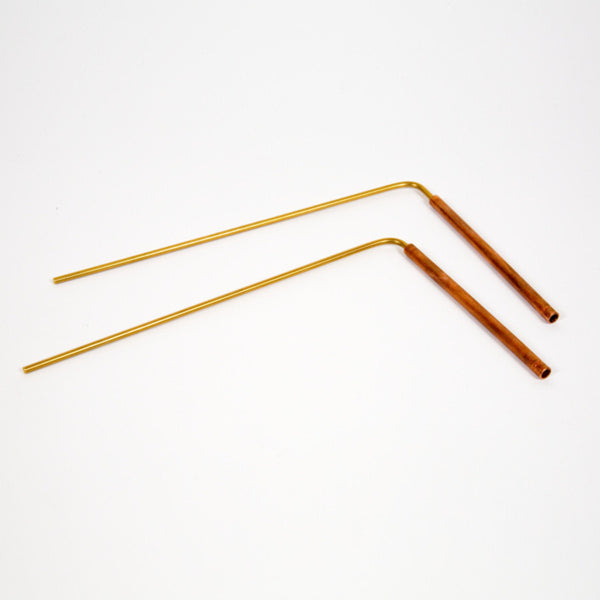 Dowsing Rods
6" x 10.75"
Brass Rod & Copper Handle
USA
Where to begin? This object requires a long explanation...or does it? Well, dowsing rods are used primarily to find water. The basic principle is to concentrate on something and the rods will point you toward what you are looking for. The technique used today originated in Germany in the 15th century to find metals and, during the Vietnam War, apparently the Marines used it to find weapons and tunnels. Hmmm. The contractor working with my father recalls when a dowser was called in to determine the position of a well. The technique has been around. Ever try dowsing when you were a kid? I did. Perhaps this is why I was so drawn to the dowsing rods when a friend brought them into KIOSK to show me. Perhaps another reason was because they worked and they FREAKED me out. They freak everyone out; they freaked Fran out when she tried them. Do nothing with the rods, just hold them. Concentrate on something and watch them move. Superstitious, me? There is nothing wrong with believing! We don't know everything and we for certain will never be able to explain everything in this world. I only hope my ancestors are not watching me at all times from heaven. Weird...