THIS IS AN ARCHIVE OF EVERYTHING KIOSK HAS COLLECTED. TO MEET THE DIGITAL, WE HAVE A PHYSICAL, CURRENTLY IN STORAGE IN NEW YORK. NOTHING YOU SEE HERE IS FOR SALE. PLEASE USE AS A REFERENCE AND AN INSPIRATION AND PLEASE WRITE US IF YOU HAVE ANY QUESTIONS OR INFORMATION TO SHARE.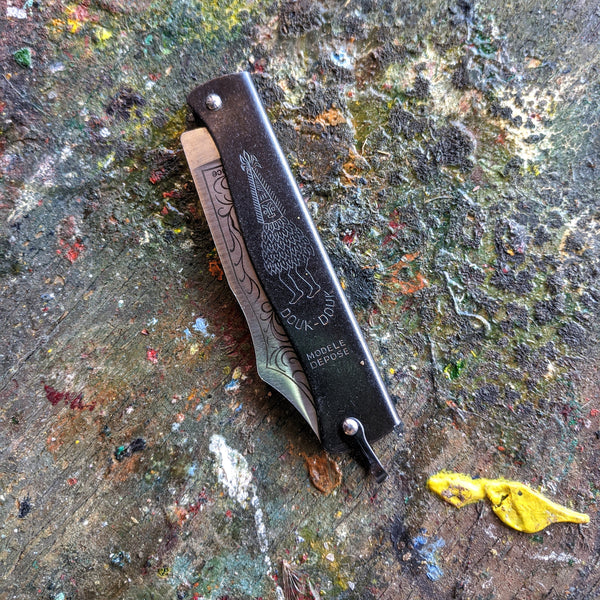 Douk-Douk Knife
Carbon Steel Blade and Sheet Metal Housing
3.5" long, 3" long blade
FRANCE
The Douk-Douk was first made in 1929 by M. C. Cognet in Thiers and continues to be produced the same way today. Consisting of simple parts with a depiction of the Douk-Douk, the Melanesian spirit-god of doom and destruction, the knife is similar to the Japanese Higonokami knife. Small enough to fit in your pocket, it has a stopping mechanism which prevents it from closing too fast. If I knew much about knives I would be able to give you all the knife jazz but I don't. Overall, I am not intimidated by this knife; I find it accessible and I like the ring on the end for clipping and hanging. Generally, my Douk-Douk lives on a nail in the studio. Very often it comes in handy. Now made in a variety of colors, etc this model is the original.