THIS IS AN ARCHIVE OF EVERYTHING KIOSK HAS COLLECTED. TO MEET THE DIGITAL, WE HAVE A PHYSICAL, CURRENTLY IN STORAGE IN NEW YORK. NOTHING YOU SEE HERE IS FOR SALE. PLEASE USE AS A REFERENCE AND AN INSPIRATION AND PLEASE WRITE US IF YOU HAVE ANY QUESTIONS OR INFORMATION TO SHARE.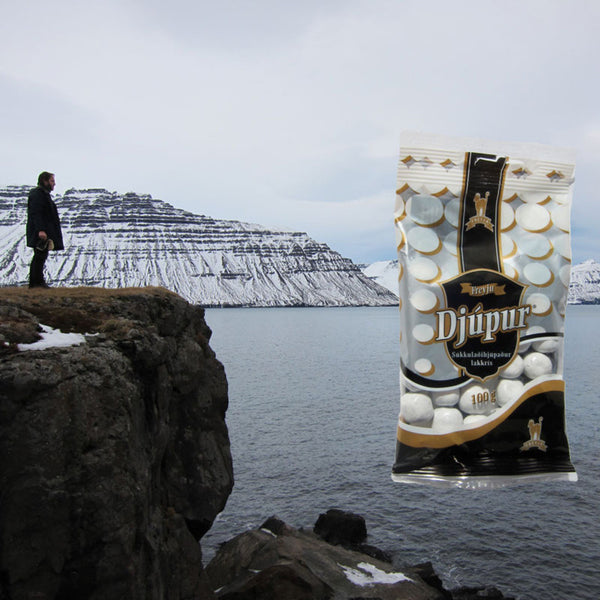 Djupur
100 g.
Sugar, Cocoa Butter, Wheat Flour, Whole Milk Powder, Cocoa Mass, Skimmed Milk Powder, Water, Licorice Paste, Sorbitol, Glucose Syrup, Hydrogenated Vegetable Fat, Ammonium Chloride, Salt, Colorant, Glazing Agents Emulsifier, Preservative & Flavors (may contain traces of nuts)
ICELAND
An admittedly ugly bag, amazing contents. Licorice with a hard sugar coating, much like a Good and Plenty but with fat juicy chunks rather than little hard nubs. Chewy and soft with a crunchy outside. Quickly addictive. Imagine eating a Djupur and being at the base of Skógafoss, a waterfall almost two hundred feet high, one of the largest in Iceland, and the spray from the falls is so hard you almost choke on the mist in your lungs. For real. Jason was opposed to stocking Djupur due to the ugly packaging, but I do believe sometimes you have to let go of aesthetic choices and let a higher power take the wheel. It's now his favorite in our selection. Little pieces of hail from the sky.