THIS IS AN ARCHIVE OF EVERYTHING KIOSK HAS COLLECTED. TO MEET THE DIGITAL, WE HAVE A PHYSICAL, CURRENTLY IN STORAGE IN NEW YORK. NOTHING YOU SEE HERE IS FOR SALE. PLEASE USE AS A REFERENCE AND AN INSPIRATION AND PLEASE WRITE US IF YOU HAVE ANY QUESTIONS OR INFORMATION TO SHARE.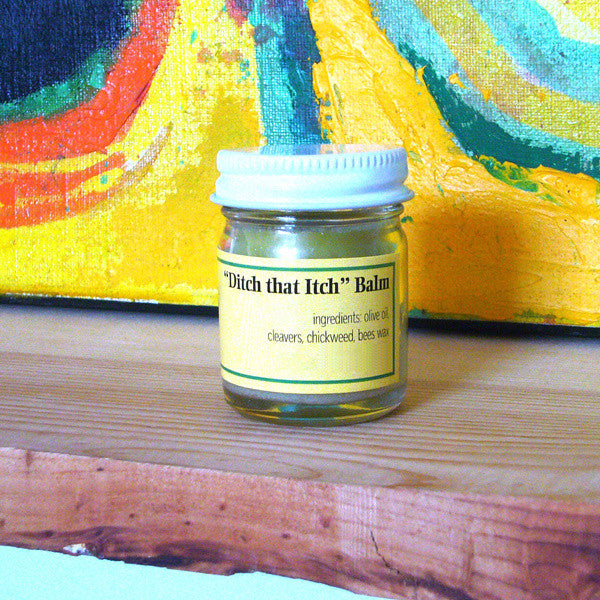 Ditch That Itch!
2" x 1.5"
Olive Oil, Cleavers, Chickweed & Beeswax
USA
Mosquitoes are bad. Worse than ever thanks to global warming, I figure! I have been bitten up and down the coast in more places - and more times - than I can count. While we were driving around Massachusetts being swarmed, I needed a new remedy as ours was not holding up. I caught sight of "Ditch That Itch!" and decided - okay, why not give it a go? Not only does it work, but it really works, I mean really, really. Berkshire mosquito bites, be gone! We traveled onward to visit our friend on the North Shore - everyone was scratching at the table and complaining, so I decided to share after holding out for two days. This product requires rationing if you only have one small jar! Again - itch, be gone! All of the picky chicks around the table were in awe, and if they were not immediately converted, they soon jumped on the bandwagon. I currently consider this to be the perfect hostess gift. I am writing this at the end of September in New York City and we still have plenty of mosquitoes; some things never go out of fashion. Smells like beeswax.