THIS IS AN ARCHIVE OF EVERYTHING KIOSK HAS COLLECTED. TO MEET THE DIGITAL, WE HAVE A PHYSICAL, CURRENTLY IN STORAGE IN NEW YORK. NOTHING YOU SEE HERE IS FOR SALE. PLEASE USE AS A REFERENCE AND AN INSPIRATION AND PLEASE WRITE US IF YOU HAVE ANY QUESTIONS OR INFORMATION TO SHARE.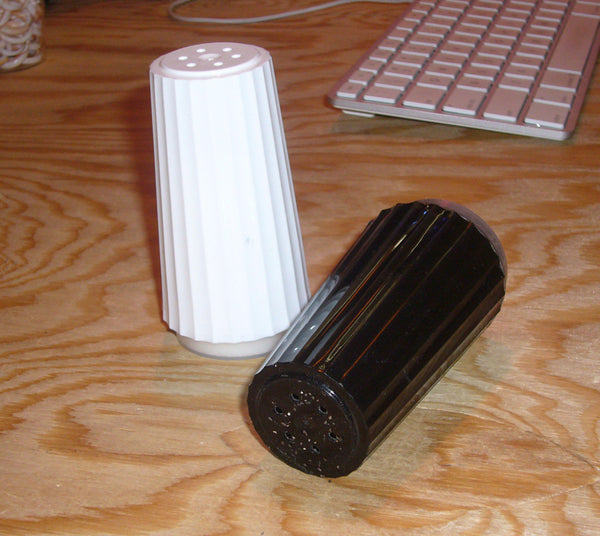 Disposable Salt and Pepper Shakers
3.5" x 1.75"ø 
Plastic, Salt & Pepper
USA
Tea for two and two for tea. We found these excellently generic and only sold by the thousands salt and pepper shakers when we were at the thousands-served restaurant called John G's in Lake Worth, Florida. Simonette, a friend who we were visiting, mentioned John G's in a casual way to me. "Yeah, up there is this place where they are known for their French toast and people go there in mobs." Huh? French toast in mobs? French toast is honestly one of my TOP 5 favorite foods, that and waffles (ask me about wanting the $1,000 waffle maker that Waffle House uses some other time), so when I heard MOBS and FRENCH TOAST in the same sentance I knew we had to go; in fact, I extended my trip so I could go and it was SO totally worth it - you should go. And screw Dr. Atkins, he died. While anxiously waiting on our order, Marco noticed these little salt and pepper shakers. Perfectly proportioned and detailed. Disposable...unless you are crafty. Forget the fancy salt and pepper grinders, these are worthy of your best omelet...and go to John G's in Lake Worth; it was totally excellent.