THIS IS AN ARCHIVE OF EVERYTHING KIOSK HAS COLLECTED. TO MEET THE DIGITAL, WE HAVE A PHYSICAL, CURRENTLY IN STORAGE IN NEW YORK. NOTHING YOU SEE HERE IS FOR SALE. PLEASE USE AS A REFERENCE AND AN INSPIRATION AND PLEASE WRITE US IF YOU HAVE ANY QUESTIONS OR INFORMATION TO SHARE.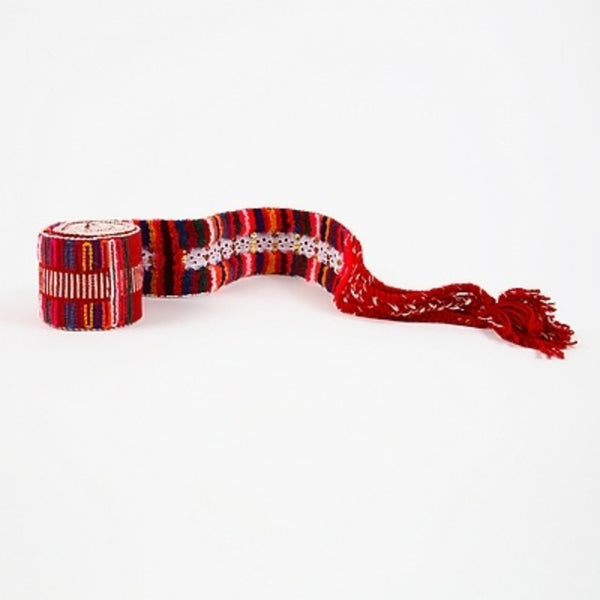 Cuetzalan Belt
114" x 2.5"
Wool, Acrylic & Sequins
MEXICO
I am in no way an expert on textiles, so when I was looking for textiles from Mexico my decisions were not based on commercial value or rarity but were purely based on beauty. When I first began my research, I immediately knew I wanted to meet the people who make this style of belt and wear it on a daily basis. We wound up traveling to northern Puebla state to find both the belts and their makers, they are not hard to find; in fact, many people in the area of Cuetzalan wear the traditional costume, but finding pieces to buy was another situation. It was difficult as there is very, very little commerce in such; what people make, they make for themselves. We found one vendor in the weekly market and one women's sewing cooperative. The rest were purchased by going door-to-door in villages and asking if people had any for sale, kind of the opposite of a door-to-door salesman, I guess. The people who make these belts are Nahua. The Nahua are the largest population of indigenous peoples in Mexico; there are close to two million of them in Mexico. They are descendants of the Aztecs. The belt wraps around the body between two and three times. It was explained to me that the more colorful side is worn out for fiestas; the simple side for daily wear. I generally wear the more colorful side out, what that means I am unsure. The visit to Cuetzalan was amazing, I highly recommend it, if you need any suggestions on how to go there please do not hesitate to ask. Of course every belt is unique.