THIS IS AN ARCHIVE OF EVERYTHING KIOSK HAS COLLECTED. TO MEET THE DIGITAL, WE HAVE A PHYSICAL, CURRENTLY IN STORAGE IN NEW YORK. NOTHING YOU SEE HERE IS FOR SALE. PLEASE USE AS A REFERENCE AND AN INSPIRATION AND PLEASE WRITE US IF YOU HAVE ANY QUESTIONS OR INFORMATION TO SHARE.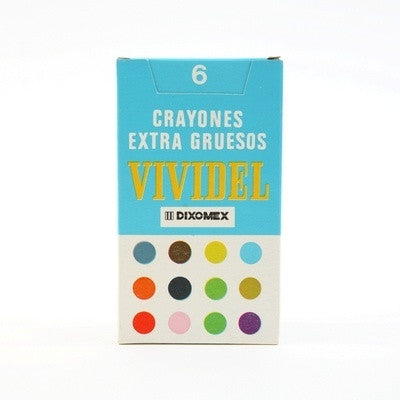 Crayons
3" x .5" x 5"
Paraffin Wax & Pigment
MEXICO
To me, this package sums up Mexican graphic design: the font, the colors, and the pattern of dots. Of course, the product is sadly discontinued in our ever-so-homogeneous world. We found these in Chiapas and luckily bought a bunch, but not too many, as I assumed one could get more in the Mexico City markets. I was wrong, they were on DISPLAY in the market but no one had any (realize it takes people some time to update their displays...). What they showed me was the new and exciting and very Crayola-like updated packaging. "Igual" or "Equal" was what I heard. Yeah, yeah, "Equal," I hear that a lot all over the world. It's also interesting that the color selection is a very Mexican palette to me. I cannot explain it, they just say Mexico.