THIS IS AN ARCHIVE OF EVERYTHING KIOSK HAS COLLECTED. TO MEET THE DIGITAL, WE HAVE A PHYSICAL, CURRENTLY IN STORAGE IN NEW YORK. NOTHING YOU SEE HERE IS FOR SALE. PLEASE USE AS A REFERENCE AND AN INSPIRATION AND PLEASE WRITE US IF YOU HAVE ANY QUESTIONS OR INFORMATION TO SHARE.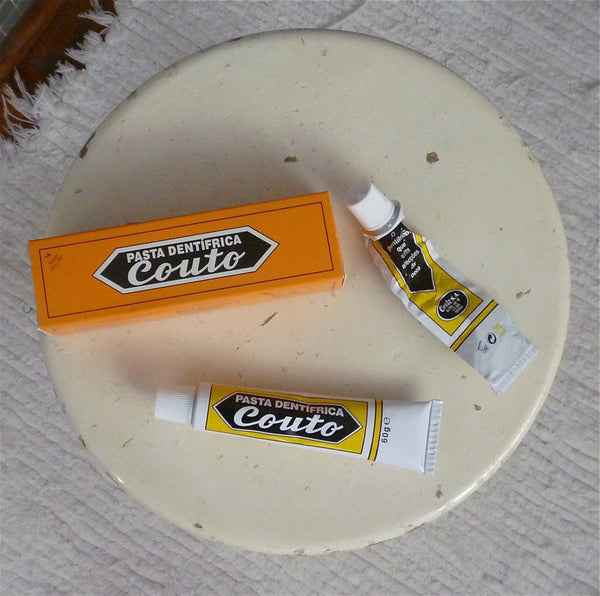 Couto Toothpaste
2" x 6"
Water, Hydroxyethylcellulose, Sodium C12-18, Alkyl Sulfate, Peppermint, Menthol, Paraffin, Anise, Saccharin,Thyme & Eugenol
PORTUGAL
What a blend! Still owned by the Couto family, Couto was created in 1932 with the slogan "on everyone's mouth." It quickly became so popular that the saying "Couto Paste" became synonymous with toothpaste in Portugal. Couto also makes a hair product called "Restaurador Olex." Hair and teeth are covered, perhaps they should make something for the mind, too? Couto is fresh, and so yummy; I use it although I am not a fan of mint. Salt and baking soda toothpaste has always been my thing. It's the blend of herbs and the lack of sweetness that sold me on Couto. An added bonus: NOT tested on animals. Jesus, get with it, Colgate!