THIS IS AN ARCHIVE OF EVERYTHING KIOSK HAS COLLECTED. TO MEET THE DIGITAL, WE HAVE A PHYSICAL, CURRENTLY IN STORAGE IN NEW YORK. NOTHING YOU SEE HERE IS FOR SALE. PLEASE USE AS A REFERENCE AND AN INSPIRATION AND PLEASE WRITE US IF YOU HAVE ANY QUESTIONS OR INFORMATION TO SHARE.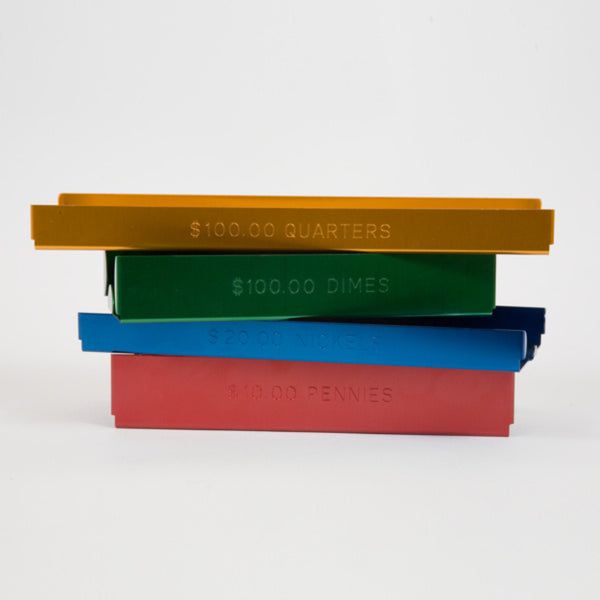 Coin Organizers
Assorted styles, largest: 10.25" x 3.25" x .75"
Anodized Aluminum
USA
Found at my local bank in the counting drawer. Catching a glimpse (I have a thing for anodized aluminum), I had to lean over the counter to see more...this brought some stares and looks of alert. "No, no, don't give me your money, just show me your coin tray!" You could say I risked my neck for another great product. Each denomination has its own tray; each coin has a specified color. If you notice the colors on coin rolls you will see red is pennies, yellow is quarters, etc, etc. An interesting piece of news from Sept. 27th, 2008: "The U.S. Mint has temporarily halted sales of its American Buffalo 24-karat gold coins because it can't keep up with investors who want gold during the current economic turbulence." Where do we go from here? Even if you are not rolling coins, I think these make excellent objects for the desk, the kitchen, the bathroom, around the house...you name it.