THIS IS AN ARCHIVE OF EVERYTHING KIOSK HAS COLLECTED. TO MEET THE DIGITAL, WE HAVE A PHYSICAL, CURRENTLY IN STORAGE IN NEW YORK. NOTHING YOU SEE HERE IS FOR SALE. PLEASE USE AS A REFERENCE AND AN INSPIRATION AND PLEASE WRITE US IF YOU HAVE ANY QUESTIONS OR INFORMATION TO SHARE.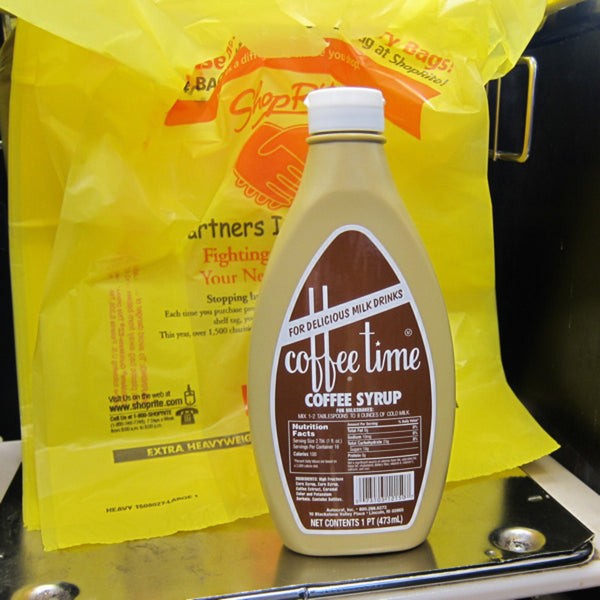 Coffeetime
9" x 5", 1 pt.
Corn Syrup, Coffee Extract, Caramel Color, Potassium Sorbate & Contains Sulfites
USA
Coffee Milk is "The Official State Drink of Rhode Island," kind of like orange juice is "The Official State Drink" of Florida, but what is it with these "Official State Drinks"? Is there one for New York? I think I'll nominate Pepto-Bismol. This leads me to think... how many states have beer as their "Official State Drink"? Do some Southern (read: religious) states have water as "The Official State Drink," and which states went for Grape Juice, Cranberry Juice, etcetera... and, for that matter, a Cape Cod being called a Cape Cod - is that "The Official State Drink" of Massachusetts? I think the people in the Berkshires would disagree with the idea, and claim only independently roasted coffee can be their state drink. I mean, but really, who ever heard of state DRINKS? What about state flowers, trees, birds, flags, and songs? The song of Rhode Island is "Rhode Island, It's For Me." About half the state songs involve "I" or "Me" - ownership. Autocrat, the maker of Coffeetime, is the only maker of coffee syrup in Rhode Island; in other words, you've got the source. The history books tell us coffee syrup was introduced in the 1930s by an enterprising diner owner; it's also always available on tap at the Brown University cafeteria.