THIS IS AN ARCHIVE OF EVERYTHING KIOSK HAS COLLECTED. TO MEET THE DIGITAL, WE HAVE A PHYSICAL, CURRENTLY IN STORAGE IN NEW YORK. NOTHING YOU SEE HERE IS FOR SALE. PLEASE USE AS A REFERENCE AND AN INSPIRATION AND PLEASE WRITE US IF YOU HAVE ANY QUESTIONS OR INFORMATION TO SHARE.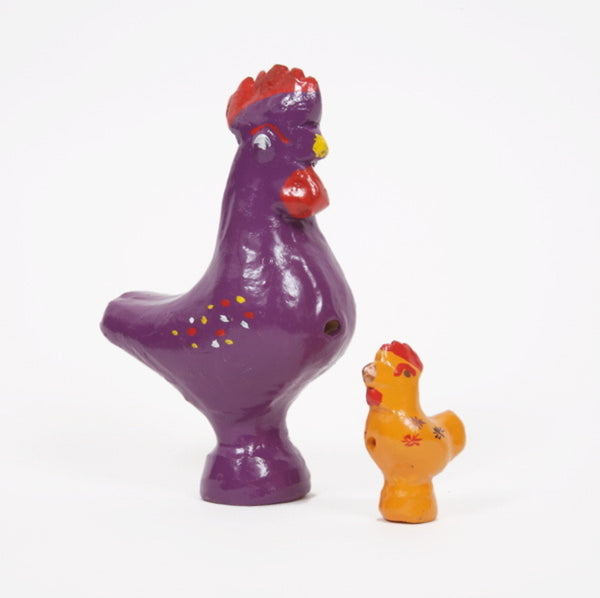 Ceramic Rooster Whistle Set
s: 2.5" x 2", l: 6" x 4" x 2" 
Clay & Paint
FINLAND
Thanks to Ikea, most everyone knows the ubiquitous Dalahäst, the Swedish Horse, but does anyone know anything about the Finnish Rooster? "Rooster?" you ask. "Why?" I don't know why, but why not? The sun shines in Finland a quarter of the year for most of the day and a quarter of the year it barely shines at all - maybe as the Finnish rooster has it tough he is honored as Finland's national charm? The rooster is a clay whistle and based on a musical instrument called an ocarina. The Mayans and Aztecs produced versions of the ocarina and Cortés brought them to Europe. This explains the similarity this whistle has to our Mexican clay whistles. (See Mexico) Something really interesting is the Dalahäst pattern resembles the pattern on the dolls from Mexico and the rooster is based on the ocarina, also derived from Mesoamerica - perhaps there is more of a connection between Scandinavia and Mexico than we realize? Or maybe than I realize...