THIS IS AN ARCHIVE OF EVERYTHING KIOSK HAS COLLECTED. TO MEET THE DIGITAL, WE HAVE A PHYSICAL, CURRENTLY IN STORAGE IN NEW YORK. NOTHING YOU SEE HERE IS FOR SALE. PLEASE USE AS A REFERENCE AND AN INSPIRATION AND PLEASE WRITE US IF YOU HAVE ANY QUESTIONS OR INFORMATION TO SHARE.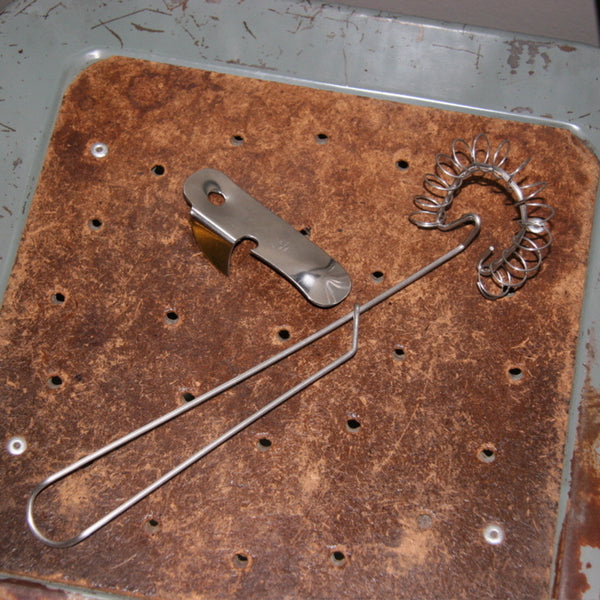 Can Opener Sveico & Swedish Style Whisk
3.5" x 1.5" can opener, 10" x 3" whisk
Steel
SWEDEN
Simplicity is key sometimes - this whisk is pleasing for the eye and just as efficient as a whisk can be. Some swear it's much more efficient than the classical "bulb"-like whisk the rest of the world is using. They are a minority, as the Swedish whisk is not as globally known as the French one. However, they do have very clever inventors in Sweden and most things from this country have been thought over many times before leaving the drawing board, so they might be right about this whisk. My favorite use for it is whisking cream and eggs, particularly when the two come together for Swedish pancakes. As for the can opener, if you don't like the wall-mounted one designed by a prince, this one - with a little practice and a little more effort - lets you open any can in almost the same time. The ergonomics are great and it won't tire your eyes. Oh, this one will never ever break down since there is nothing to break...