THIS IS AN ARCHIVE OF EVERYTHING KIOSK HAS COLLECTED. TO MEET THE DIGITAL, WE HAVE A PHYSICAL, CURRENTLY IN STORAGE IN NEW YORK. NOTHING YOU SEE HERE IS FOR SALE. PLEASE USE AS A REFERENCE AND AN INSPIRATION AND PLEASE WRITE US IF YOU HAVE ANY QUESTIONS OR INFORMATION TO SHARE.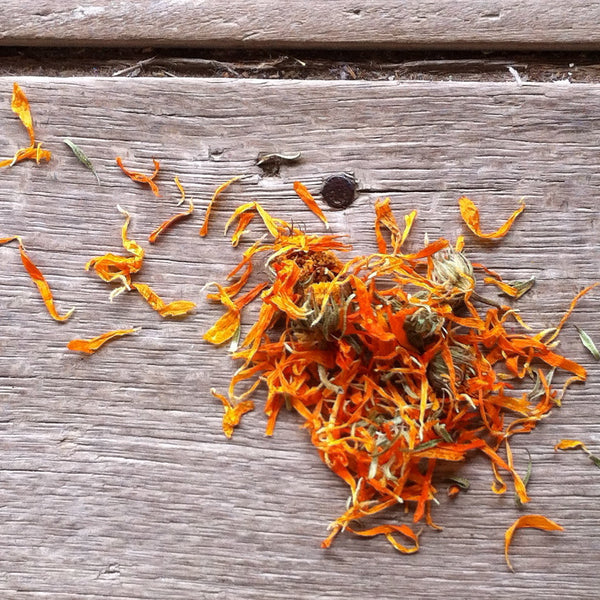 Calendula Tea
5" x 4" x 1.5", .4 oz. 
Dried Calendula
COLOMBIA
When I asked Chris how things were going in Colombia, he wrote me: "Forget April showers, Medellín has flowers growing year-round, and in great quantity." "OK," I said. "But how is the art going? What are you working on? Are you finding good materials? Did you start working on a collection for KIOSK yet?" He replied, "Besides textiles, one of La Ciudad de la Eterna Primavera's (or the City of Eternal Spring's) greatest exports is cut flowers." "Super, super," I said. "But how about the work? And why are you telling me about flowers?" His reply was, "For this reason: Medellín has an abundance of floral teas, not to mention markets overflowing with bundles of goldenrod and roses." After that I stopped sending him emails for a while. He simply was not making sense. What in the world is going on in Colombia? I thought. Damn, I have to get down there. Before I booked my ticket, a care package arrived in the mail - there was a mug, and this tea, and a note from Chris: "Calendula has traditionally been used to relieve abdominal pain and constipation. Oh, and enjoy the mug." Ah, okay... I had better make a trip down to Colombia.