THIS IS AN ARCHIVE OF EVERYTHING KIOSK HAS COLLECTED. TO MEET THE DIGITAL, WE HAVE A PHYSICAL, CURRENTLY IN STORAGE IN NEW YORK. NOTHING YOU SEE HERE IS FOR SALE. PLEASE USE AS A REFERENCE AND AN INSPIRATION AND PLEASE WRITE US IF YOU HAVE ANY QUESTIONS OR INFORMATION TO SHARE.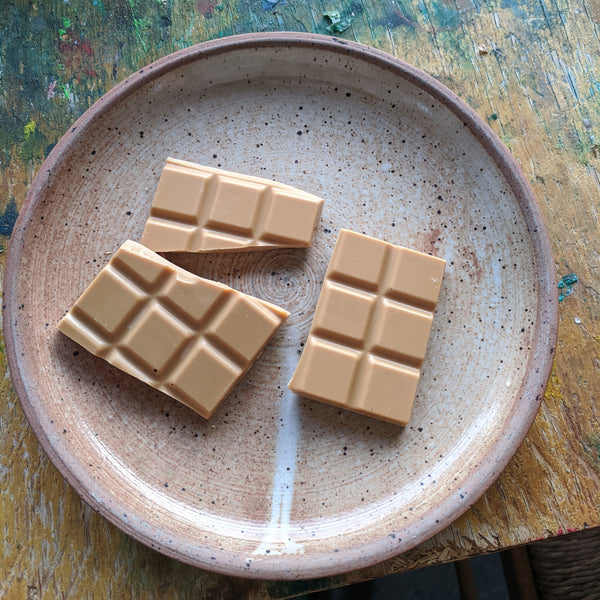 Viganotti Biondo Chocolate Bar
Cocoa Butter, Sugar,Powdered Milk, Whey, Butter, Vanilla Aroma, Soy Lecithin
100 grams / 6" x 3"
ITALY

Cacao content 32% ! Not only am I rejecting the trend of dark chocolate I am also rejecting the possible health benefits of the same. Listen, I will take chocolate in any form, I don't have a problem with dark, bitter stuff but I prefer my greens bitter and my chocolate smooth. In this biondo bar I seem to have found the right balance. It's flavor is nothing less than caramel but it melts and reacts like chocolate in the mouth. You pretty much get the benefits of caramel minus the stick in the teeth hazards and facial annoyances. Break a piece, pop in, kick back, melt, flavor, ooooo. Romeo Viganotti was established in Genoa in 1866. OK, established dates are really overused now, however, one can trust that if a company has been around for over 150 years they must be doing something right. Somehow they figured out how to combine the smashed beans with milk and caramel (rather than sugar alone) to make a really special oooooo bar.