THIS IS AN ARCHIVE OF EVERYTHING KIOSK HAS COLLECTED. TO MEET THE DIGITAL, WE HAVE A PHYSICAL, CURRENTLY IN STORAGE IN NEW YORK. NOTHING YOU SEE HERE IS FOR SALE. PLEASE USE AS A REFERENCE AND AN INSPIRATION AND PLEASE WRITE US IF YOU HAVE ANY QUESTIONS OR INFORMATION TO SHARE.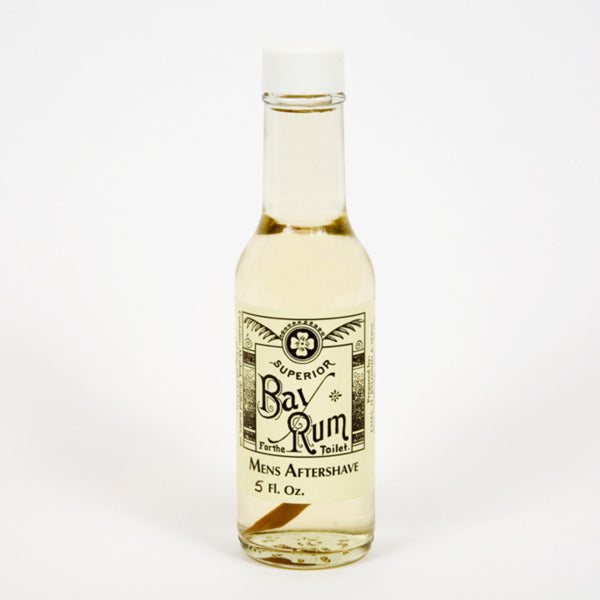 Bay Rum
1.5" x 7", 5 fl oz.
Alcohol, Distilled Water, Oil of Bay & Clove
USA
Let me make one thing really clear: I HATE men's cologne! No matter who it is made by, where it is from, or what form it comes in: phew phew phew. However, a fresh smell can be nice after shaving. Like most good companies, Baldwin & Sons (established in 1888) is still in the family. Bay Rum has been a popular scent for ages and there are many versions on the market. The Baldwins formulated theirs in the 1930s, when the current owner's grandfather was asked by a local boarding house to provide something for their gentlemen clients, as they were already successfully selling perfume to the ladies. Bay Rum traditionally has a multitude of ingredients. I like Baldwin's in particular for its simplicity. When I smelled it, I thought, "Thank goodness. Finally a men's cologne that does not gag me with a spoon or remind me of Marcia Brady saying 'Oh, my nose!'" Remember that episode?