THIS IS AN ARCHIVE OF EVERYTHING KIOSK HAS COLLECTED. TO MEET THE DIGITAL, WE HAVE A PHYSICAL, CURRENTLY IN STORAGE IN NEW YORK. NOTHING YOU SEE HERE IS FOR SALE. PLEASE USE AS A REFERENCE AND AN INSPIRATION AND PLEASE WRITE US IF YOU HAVE ANY QUESTIONS OR INFORMATION TO SHARE.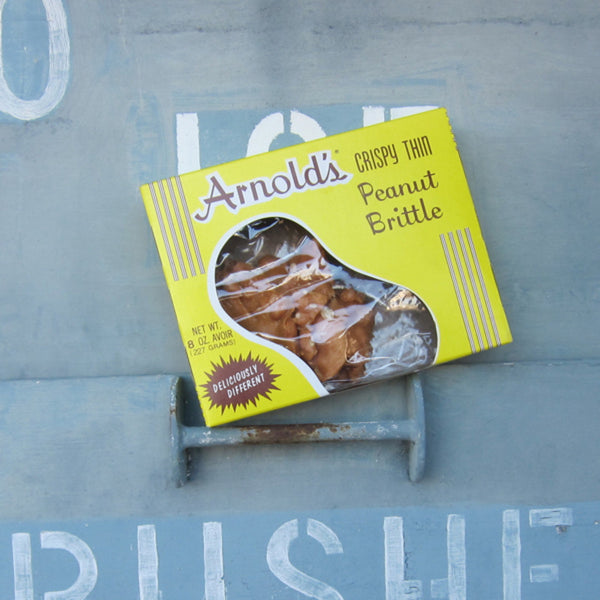 Arnold's Peanut Brittle
8.1" x 6.25" x 1.75", 8 oz.
Sugar, Corn Syrup, Peanuts, Baking Soda & Salt
USA
Nutty the Squirrel says - EAT ARNOLD'S! How can you not love Arnold's from Akron if you know that Nutty loves them! I am also told by Mrs. Arnold herself that Dick Clark is one of their biggest customers - that stuff keeps him going! Mr. Arnold at 83 is still heading up the backroom at Arnold's. Mrs. Arnold is one of the nicest ladies. They must be having a blast over there, whooping it up, making their brittle! Crunchy and sweet, a little bit of salt in the mix, too; it's a strange multivitamin of sorts: fighting old age with every bite of Arnold's - ARNOLD'S FOUNTAIN OF YOUTH.