THIS IS AN ARCHIVE OF EVERYTHING KIOSK HAS COLLECTED. TO MEET THE DIGITAL, WE HAVE A PHYSICAL, CURRENTLY IN STORAGE IN NEW YORK. NOTHING YOU SEE HERE IS FOR SALE. PLEASE USE AS A REFERENCE AND AN INSPIRATION AND PLEASE WRITE US IF YOU HAVE ANY QUESTIONS OR INFORMATION TO SHARE.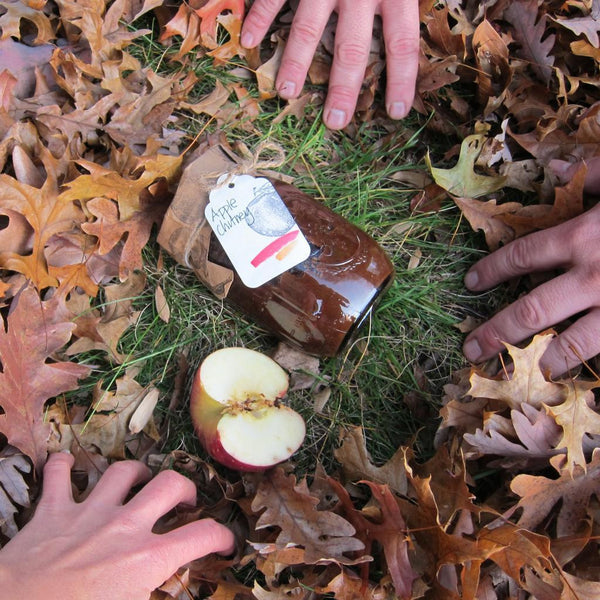 Apple Chutney
16 oz.
Apples, Onions, Red Peppers, Sugar, Garlic, Raisins, Vinegar, Salt, Ginger & Spices.
USA
Apples and chutney flavor, compliments of Red Sky Trading in Glover, Vermont, a history teacher husband and graphic designer wife team. Not very sweet, which means it is good with cheese, Indian food, yogurt, etc. If only I had time to make my own condiments, jams, and compotes. In the summer we pick or are given fruit from the neighbors in the South of France and we make big pots of compote and confiture. The picking, stirring, and jarring is as enjoyable as the eating. Red Sky Trading uses the honor system. They have a shed in their yard right in the center of town with a huge display doughnut made of an old, slightly deflated inner tube hanging out front. The place is stocked with all of Doug and Cheri's creations - from cake to chutney to nacho chips. Pay what you owe in the jar and write it in the book! It made us feel so good we thought about doing the same at Kiosk, but alas, New York City is not Vermont and Vermont is Vermont.