THIS IS AN ARCHIVE OF EVERYTHING KIOSK HAS COLLECTED. TO MEET THE DIGITAL, WE HAVE A PHYSICAL, CURRENTLY IN STORAGE IN NEW YORK. NOTHING YOU SEE HERE IS FOR SALE. PLEASE USE AS A REFERENCE AND AN INSPIRATION AND PLEASE WRITE US IF YOU HAVE ANY QUESTIONS OR INFORMATION TO SHARE.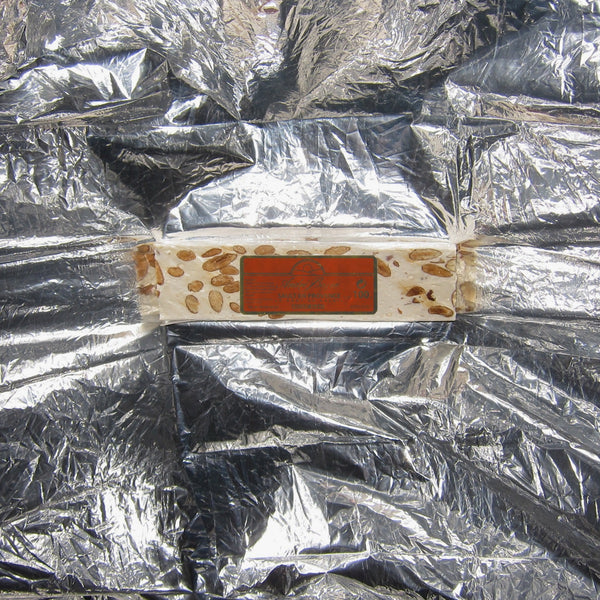 Nougat
7" X 1.75" X .5"
Almonds, Honey, Sugar, Egg Whites, Vanilla, "Hostie"
FRANCE
As you might imagine, visiting a nougat maker was of little burden to us. The confiseurs start their day at 6 am, beginning with the hand roasting of almonds in a machine over a century old. The almonds are roasted, the honey and sugar blend is heated to a liquid, the temperature is precise, then the fresh roasted almonds are added to the hot, honey/sugar liquid, egg whites are blended in and at a moments notice the nougat is ready to be poured into wooden molds lined with HOST, yes, sheets of the wafer you get as communion, if you are into such things. In Southern Europe it is a tradition to give white nougat at Christmas, perhaps it relates to the Host? Andre Boyer, located in Provence, was established in 1887 makes a delicious nougat blanc. It tastes of almonds and the local honey, nothing more as nothing more is necessary. Give to any host of any party you go to and tell them the joke.