THIS IS AN ARCHIVE OF EVERYTHING KIOSK HAS COLLECTED. TO MEET THE DIGITAL, WE HAVE A PHYSICAL, CURRENTLY IN STORAGE IN NEW YORK. NOTHING YOU SEE HERE IS FOR SALE. PLEASE USE AS A REFERENCE AND AN INSPIRATION AND PLEASE WRITE US IF YOU HAVE ANY QUESTIONS OR INFORMATION TO SHARE.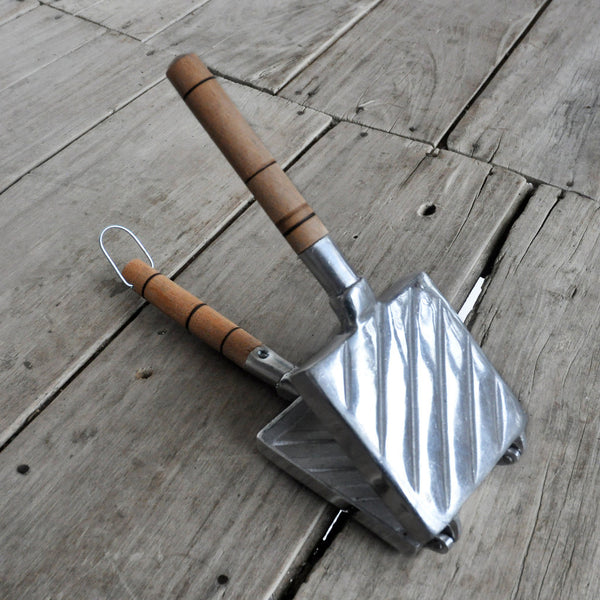 Aluminum Sandwich Press
11" x 4.5" x 2.75"
Wood & Aluminum
COLOMBIA
With all that cold, yummy, and 150 kinds of fruit juice I am going to drink in Colombia when I get there, I need something to eat too. Liquid diets do not serve me well. When Chris was in Colombia he loved, loved, loved making toasted sandwiches with this thingy. Interestingly enough, last week we found almost the same item in the back of the kitchen cabinet at Marco's parents in the South of France and Marco claims he used this every day when he was around Chris's age. Something in common. Is it the south that necessitates cheesy and oozy things? Like cheese on grits and cheese fries? I have never been to Colombia, but my friend Chris has and he tells me the cheese is not great there. He said a sandwich made with this press in New York or France - think Vermont maple cheddar or Banon cheese - would be much better.