THIS IS AN ARCHIVE OF EVERYTHING KIOSK HAS COLLECTED. TO MEET THE DIGITAL, WE HAVE A PHYSICAL, CURRENTLY IN STORAGE IN NEW YORK. NOTHING YOU SEE HERE IS FOR SALE. PLEASE USE AS A REFERENCE AND AN INSPIRATION AND PLEASE WRITE US IF YOU HAVE ANY QUESTIONS OR INFORMATION TO SHARE.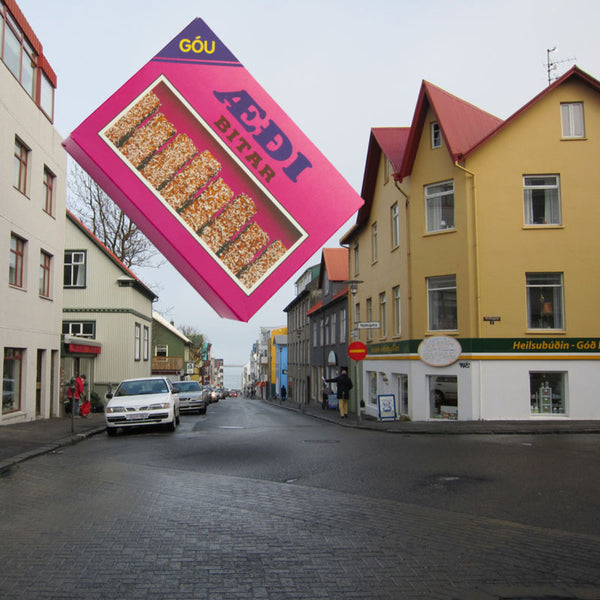 Ædi Bits
About 24 bits in a box
Wheat, Sugar, Desiccated Coconut, Cocoa Butter, Cocoa Liquor, Vegetable Fat, Sodium Bicarbonate, Milk Powder, Ammonium Bicarbonate, Salt, Maize Starch, Lecithin, Vanillin & Soya Oil (could contain traces of hazelnuts and almonds)
ICELAND
"Ædi" has been translated to me as "get some", "frenzy", "the good stuff" and "crazy/fantastic". Ædi, Hraun and Florida are all variations on the same theme of chocolate, wafer, rice puff and coconut. Biting into the bar, I realize Ædi loses the puffs while supplying the chocolate, wafer and coconut fixes. It's crunchy inside, with a light, mild chocolate coating on the outside. It goes down easy; the coconut lends a bit of mystery and an exotic touch. I like the rice puffs on the other models but don't miss them too much. At the end, I determine that without the coconut this is pretty much a Kit Kat but with better chocolate. Light and easy.