THIS IS AN ARCHIVE OF EVERYTHING KIOSK HAS COLLECTED. TO MEET THE DIGITAL, WE HAVE A PHYSICAL, CURRENTLY IN STORAGE IN NEW YORK. NOTHING YOU SEE HERE IS FOR SALE. PLEASE USE AS A REFERENCE AND AN INSPIRATION AND PLEASE WRITE US IF YOU HAVE ANY QUESTIONS OR INFORMATION TO SHARE.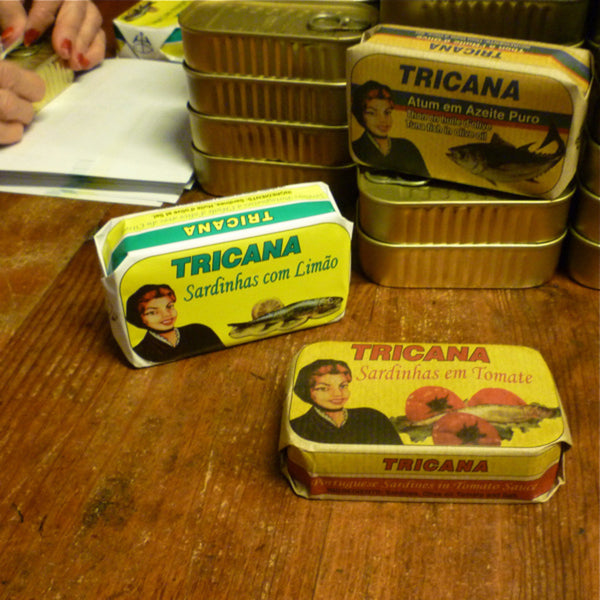 Set of Sardines by Tricana
4.25" x 2.5"
Sardine & Tuna etc.
PORTUGAL
Portugal is famous for its sardines and other tinned fish. However, not many compare to the label Tricana. Only fresh Portuguese fish is used: tuna from Azores, sardines from Matosinhos, and eels from Murtosa. The output is small and of top quality with a large variety of both fish and recipes. It has always been this way at Conserveira de Lisboa, the Lisbon-based enterprise founded in 1930, whose headquarters, at Rua dos Bacalhoeiros, 34, are still intact and strikingly beautiful. We tried several types of their fish when we were in Lisbon and offer you our favorites: tuna in pure oil, sardines in lemon, and sardines in tomato. If you like this type of thing, this is pretty much the best of the best from Portugal, so you should try it.