THIS IS AN ARCHIVE OF EVERYTHING KIOSK HAS COLLECTED. TO MEET THE DIGITAL, WE HAVE A PHYSICAL, CURRENTLY IN STORAGE IN NEW YORK. NOTHING YOU SEE HERE IS FOR SALE. PLEASE USE AS A REFERENCE AND AN INSPIRATION AND PLEASE WRITE US IF YOU HAVE ANY QUESTIONS OR INFORMATION TO SHARE.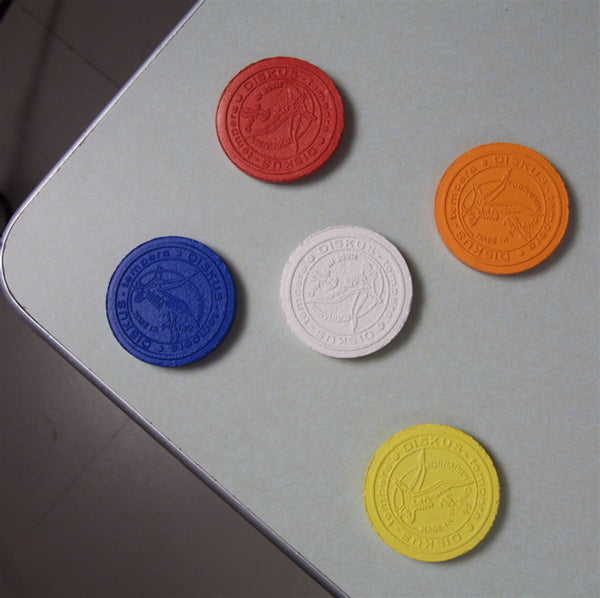 Set of Gouache Colors
1.5"ø
Kaolin, Dextrine, Sugar, Talc, Chalk & Pigment 
FINLAND
These gouache colors are used in every Finnish elementary school to help children learn about color. Kids are given a set of 5 on a cardboard palette to blend. Look closely and notice the "Made in Finland" insignia. Produced by a firm established in 1907, we visited their factory in the countryside; it was a small place, adjacent to their home. The mother of the home and co-owner of the business showed us around - the top floor was packing and warehousing; the bottom floor was where the goods were made. We saw rooms where the watercolors were processed - one color at a time - with the room shifting color based on whichever is being produced. It was a pretty exciting operation, totally down-to-earth and very basic, not at all what one imagines when you have their product in your hand. I was thinking assembly line, teams of people, industrial environment, etc, etc. It is very different from the New Jersey Turnpike industrial view. Even though these are non-toxic, please keep an eye on the kids and make sure they do not eat them.